ZUCCHINI BREAD
What to do when someone gives you a 3 lb zucchini. Make this delicious light and moist zucchini bread which uses 1½ lbs of zucchini per loaf.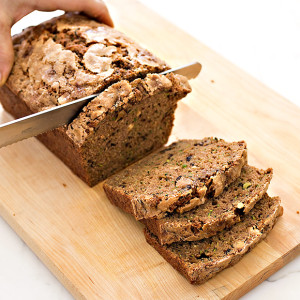 Ingredients
1 ½ pounds zucchini, shredded
1 ¼ cups packed () brown sugar
¼ cup vegetable oil
2 large eggs
1 teaspoon vanilla extract
1 ½ cups () all-purpose flour
½ cup () whole-wheat flour
1 tablespoon ground cinnamon
1 ½ teaspoons salt
1 teaspoon baking powder
1 teaspoon baking soda
½ teaspoon ground nutmeg
¾ cup walnuts, toasted and chopped (optional)
1 tablespoon granulated sugar
Directions
Adjust oven rack to middle position and heat oven to 325 degrees. Grease 8½ by loaf pan.
Place zucchini in center of dish towel. Gather ends together and twist tightly to drain as much liquid as possible, discarding liquid (you should have ½ to ⅔ cup liquid). Whisk brown sugar, oil, eggs, and vanilla together in medium bowl. Fold in zucchini.
Whisk all-purpose flour, whole-wheat flour, cinnamon, salt, baking powder, baking soda, and nutmeg together in large bowl. Fold in zucchini mixture until just incorporated. Fold in walnuts, if using. Pour batter into prepared pan and sprinkle with granulated sugar.
Bake until top bounces back when gently pressed and toothpick inserted in center comes out with few moist crumbs attached, 65 to 75 minutes. Let bread cool in pan on wire rack for 30 minutes. Remove bread from pan and let cool completely on wire rack. Serve.
Notes
Use the large holes of a box grater to shred the zucchini. The test kitchen's preferred loaf pan measures 8½ by ; if you use a 9 by loaf pan, start checking for doneness 5 minutes early.

Variations
Zucchini bread with walnuts and dried cherries
Add 1 tablespoon of cocoa powder instead of the ground cinnamon. ½ teaspoon ground cloves instead of the nutmeg and -3/4 cup of dried cherries, chopped
Zucchini bread with Pistachios and Orange
Add 1 teaspoon of grated orange zest. ½ teaspoon ground cardamom. And ¾ cup shelled pistachios, toasted and chopped

Baked goods are a great way to use up zucchini. Because of its high moisture content, zucchini produces a moist cake. However, if not used correctly, zucchini can leave baked goods extremely wet and gummy. By removing a majority of the juice from the zucchini, along with most other sources of moisture, and lowering the fat, the zucchini content was increased from to without sacrificing a properly moist and tender crumb.
How to make Zucchini Bread Video