9 Bean Sausage Soup
This is a very tasty and filling soup that freezes well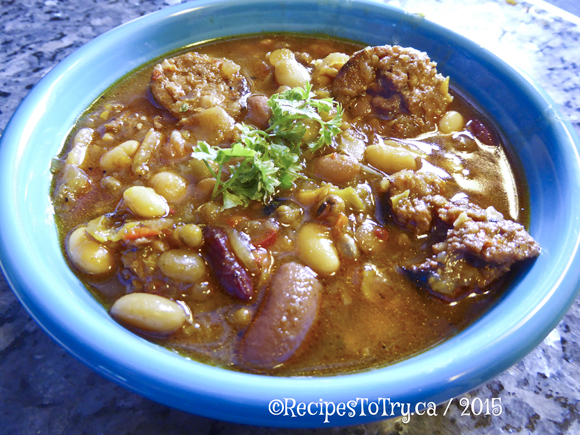 Source: RecipesToTry.ca
Ingredients
3 Spolumbo's spicy Italian sausage,
4 cups Chicken broth
2 cups beef broth
14 oz. ( 2 cups) 9 Dry Bean Soup Mix
1 bay leaf
2 pinches crushed saffron threads
2 tablespoons olive oil
1 onion, finely chopped
4 cloves garlic, minced
½ red pepper, finely chopped
1 tablespoon sweet paprika
1 tablespoon fish sauce
7 oz chopped kale veins stems removed (optional)
Directions
Wash and rinse the beans then cover dried beans with three times their volume of water (6 cups) and let stand in refrigerator for 12 hours or overnight. Drain.
Brown and cook the sausages in a large frying pan medium heat (Use a Dutch Oven for one pot only). About 15 minutes Remove from the pan, dice and set aside
Heat the oil in the Dutch oven medium heat. Add the onion, and cook for about 5 minutes, then stir in the garlic and cook for another minute. Mix in the red pepper and paprika. Cook for a few minutes. Add Broth, diced sausage, and the drained beans. Add the saffron and bay leaf and fish sauce.
Bring the soup to a low boil, and stir in the kale if using. Simmer for 60 minutes, until beans are tender. Salt and Pepper to taste. Serve hot.
Notes
This soup freezes very well
Can use 2 19 oz (540 ml) Can mixed beans drained and rinsed to save time. Simmer 30 minutes. If using canned beans,
You could also add 1 (200g) bunch about 7 oz, curly kale, leaves coarsely chopped Looks like a lot but shrinks on cooking.
Nutrition Information
Serving size:
363 grams
Calories:
374
Fat:
27.3 g
Saturated fat:
4.8 g
Carbohydrates:
60.6 g
Sugar:
3.6 g
Sodium:
526.mg
Fiber:
9.3 g
Protein:
22.6
Cholesterol:
52 mg