One Pan Roasted Fresh Salmon with Roasted Broccoli & Brussels Sprouts. (A Cuisinart Steam/Convection Oven Recipe)
Nothing simpler then using one pan and having dinner ready in 15 minutes that is tasty and delicious and not to mention nutritious and low calorie.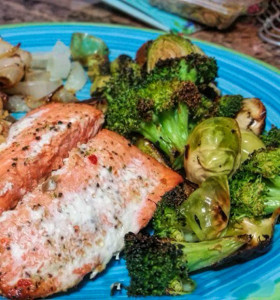 Ingredients
Aluminum foil
Non stick vegetable oil cooking spray
2 salmon fillets (about . each)
salt and pepper to taste
For the salmon glaze
1 tablespoon honey
1 tablespoon lemon juice
½ teaspoons ginger minced
2 garlic cloves minced
½ teaspoon fresh dill chopped
½ teaspoon fresh basil chopped
½ teaspoon fresh thyme chopped
For the Veggies
1 cup Brussel sprouts halved
1 cup broccoli flowerets
1 tablespoon fresh thyme chopped
1 tablespoon olive oil
½ tablespoons lemon juice
1 clove garlic minced
Directions
Cover the sheet pan with aluminum foil and spray with non stick cooking spray. Spread out your Brussel sprouts and broccoli flowerets on one half of the pan and drizzle with 1 Tbsp. olive oil and ½ Tbsp. lemon juice. Season with salt and pepper and sprinkle the garlic and ½ Tbsp. thyme over the veggies.
In a small blow combine 1 Tbsp. lemon juice, 1 Tbsp. honey, 1 tsp ginger, 2 cloves garlic minced, and 1 ½ teaspoon thyme, dill, basil. Set aside.
Place salmon on the other side season both sides with salt and pepper and brush the glaze onto both sides.
Place in the Cuisinart Steam oven on the middle rack and use the bake and steam setting at 400 F for 10 minutes (the time may have to be adjusted depending on the thickness of the salmon) The salmon should flake easily with a fork when it's ready. When done change the setting to broil at for 3 minutes.
Nutrition Information
Serving size:
4 oz salmon and 1 cup of veggies
Calories:
277
Fat:
14.4 g
Carbohydrates:
15.9 g
Sugar:
9.9 g
Sodium:
66 mg
Fiber:
2.5 g
Protein:
24.2 g
Cholesterol:
50 mg