VEGGIE CHOW MEIN
For a healthier & very tasty version of chow mein, add a nutrient boost of fresh vegetables to your noodles!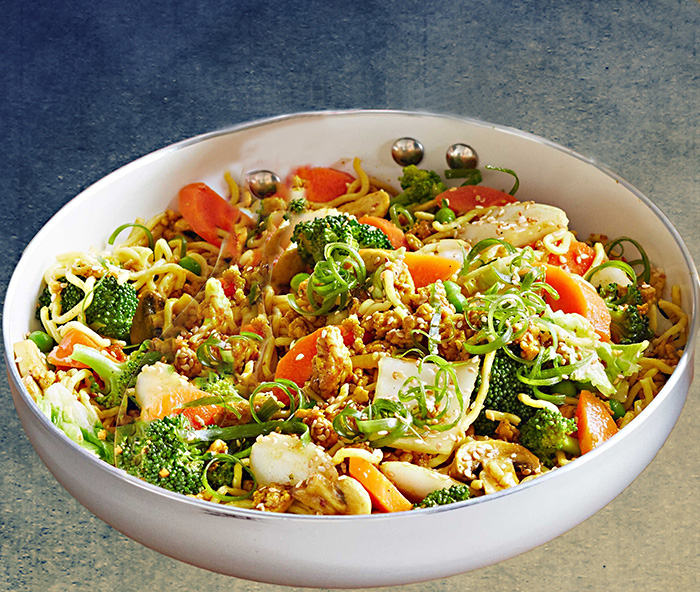 Prep time:
Cook time:
Total time:
Ingredients
2 (5.6 ounce) packages yakisoba noodles, seasoning packets discarded
¼ cup low sodium soy sauce
1 teaspoon dark soy sauce (optional, for color)
2 cloves garlic, minced
2 teaspoons brown sugar
½ cup water
1 teaspoon rice vinegar
½ teaspoon fish sauce (or add about ¼ teaspoon of salt)
1 teaspoon Sriracha
2 teaspoons sesame or vegetable oil
4 ounces brown mushrooms, sliced
2 cups broccoli florets
2 large carrots, cut into matchsticks
2 cups shredded green or purple cabbage
4 scallions, sliced
1 tablespoon sesame seeds (optional, for garnish)
Directions
Follow the package instructions to warm and separate the yakisoba noodles.
In a medium bowl, whisk together the soy sauce, dark soy sauce (if using), garlic, brown sugar, water, rice vinegar, and sriracha. Set aside.
Heat the sesame (or vegetable) oil in a wok or skillet over medium-high heat. Add the mushrooms in a single layer and sauté for 90 seconds per side, until browned. Remove from skillet and set aside.
Add the broccoli and carrots to the pan along with ¼ cup of water. Cover the pan, turn the heat down to medium, and let the vegetables steam for 2 minutes. Add the cabbage and scallions and stir-fry for 1 minute. Return the mushrooms to the pan along with the prepared noodles. Toss well.
Pour the whisked sauce into the pan and toss the noodles to coat. Let the sauce come to a boil before turning the heat off. Serve hot, garnished with sesame seeds (if desired).
Notes
Buy the yakisoba noodles that comes in a bag containing three 5.6 ounce packages - check the produce section!
Yakisoba noodles have a nice texture, plus they keep for a long time in your fridge.
Use whatever random vegetables you have left in the fridge!