Spiralized Cinnamon Apples with Greek Yogurt
Whether you decide to eat this as a snack or a dessert either way it is delicious. That it's low in calories is just another bonus. One serving has about 150 calories.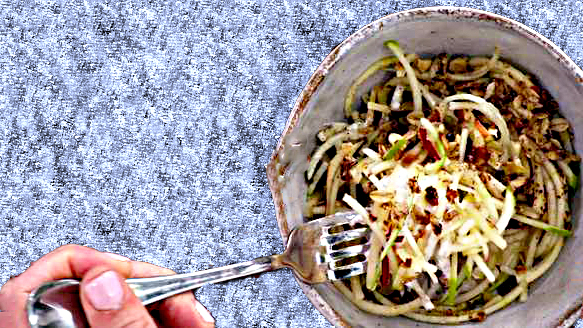 Ingredients
1 large-sized apple
1 teaspoon lemon juice
4 tablespoon pecans, chopped
4 tablespoons old-fashioned oats
1 teaspoon unsalted butter
1 teaspoon ground cinnamon, plus ½ teaspoon cinnamon
2 tablespoons brown sugar, plus 1 teaspoon of brown sugar
2 tablespoons raisins
4 ounces non-fat greek yogurt
Directions
Spiralize Apple (unpeeled) using the smallest blade.
Discard core and seeds. Toss spiralized apple in lemon juice.
Heat a saute pan over medium heat. Toast pecans and oats in a pan until fragrant and slightly golden.
Melt butter with oats and pecans – add 1 teaspoon cinnamon, raisins, and 2 tablespoons brown sugar and cook until slightly caramelized. Remove from heat.
Stir ½ teaspoon cinnamon 1 teaspoon brown sugar into Greek yogurt. Divide yogurt into two bowls and top with spiralized apple and oat mixture.
Notes
You will have granola mixture left over. Store in air tight container in the fridge.