German Potato Salad for 2 ( Instant Pot )
Using the instant pot means the potatoes are ready in no time. Served hot or cold it is delicious.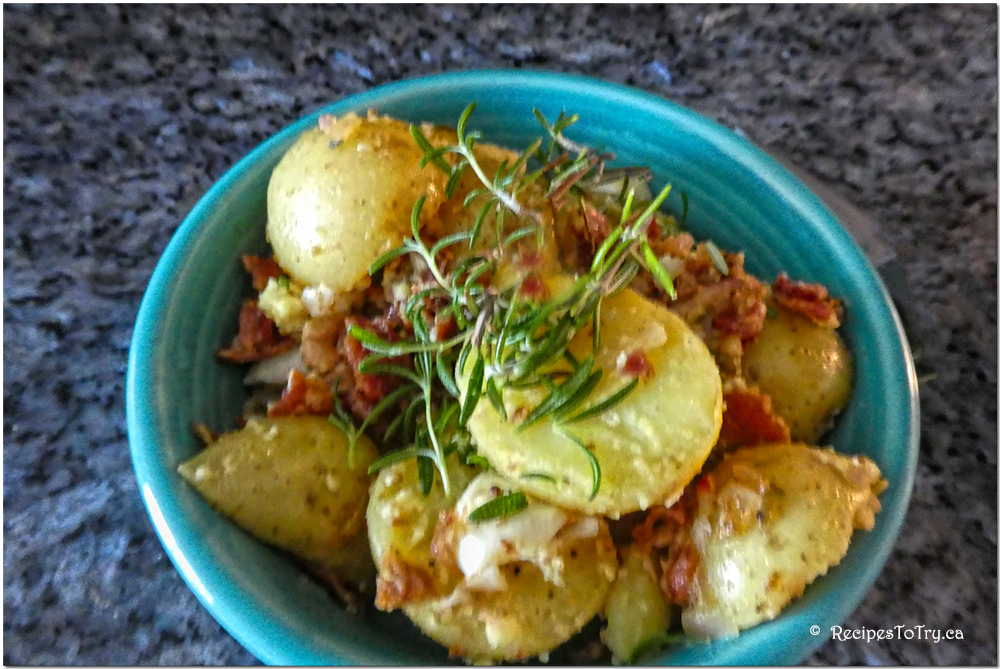 Recipe type:
side dish, salad
Ingredients
1 ½ lbs baby potatoes peel on & quartered
2 eggs
5 pieces of bacon cooked until crisp & crumbled
2 ½ tbsp. Apple cider vinegar.
½ tbsp. Dijon mustard.
1 tbsp. green relish.
¼ tsp salt
¼ tsp pepper
½ tbsp. Garlic, minced.
1 ½ tbsp. rosemary, chopped
2 tbsp. olive oil
1 shallot, finely chopped.
Directions
The potatoes & eggs
Scrub the potatoes well. Add one cup of water to the Instant Pot, and place a steamer basket inside.
Add the halved potatoes, season with salt and place the eggs carefully on top.
Place and lock the lid, and set the settings to manual, 'HIGH' pressure for 3 minutes. Allow the pressure to release naturally for a couple of minutes and then use the quick release to let the steam out before opening the lid.
Remove the steamer basket carefully and rinse the eggs under cold water. Let cool and peel the eggs and slice them. Place in a medium bowl add the potatoes after they have cooled down.
The dressing
Meanwhile, in a non-stick skillet, cook the bacon over medium heat, occasionally flipping, until crispy. Remove bacon onto a plate with paper towels, pat dry and crumble the bacon. Leave bacon grease in the skillet.
Add the vinegar, Dijon, salt, and pepper to the bacon grease. Bring to a low boil for 1 minute, then add garlic, stirring. Remove from heat.
Add the crumbled cooked bacon, bacon dressing, rosemary, olive oil and onions to the bowl. Serve hot or cold.
Notes
This recipe is easily doubled.