Bavarian Pork Roast
The glaze that accompanies this Roast is also delicious with pork chops or chicken.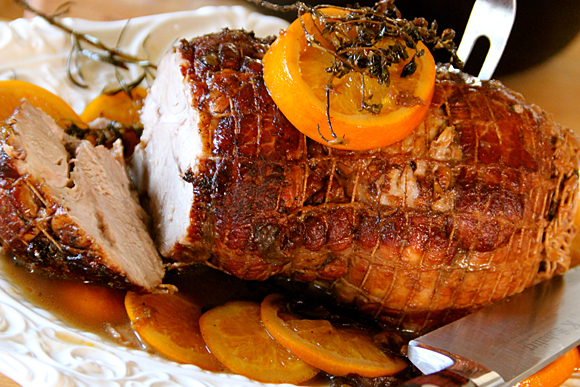 Ingredients
1 pork loin roast (about 2.5 kg/5Ibs.)
Salt and pepper
250 mL (1 cup) orange juice
75 mL (1/3 cup) water
50 mL (1/4 cup) firmly packed brown sugar
15 mL (1 tbsp.) French's Deli Mustard
15 mL (1 tbsp.) cornstarch
10 mL (2 tsp.) soya sauce
5 mL (1 tsp.) finely grated orange rind
2 mL (1/z tsp.) thyme
1 mL (1/4 tsp.) ground ginger
1 clove garlic finely minced
Directions
Season pork with salt and pepper.
Place on rack in roasting pan; roast at 160°C (325' F) for 2 hours.
Combine remaining ingredients in small saucepan; heat stirring constantly until mixture thickens and bubbles. Brush over pork.
Continue roasting, brushing occasionally with glaze until meat thermometer reads 80°C (170°F) .or about 1 hour longer.
Heat remaining glaze; serve as sauce with sliced pork.