Cheesy Stuffed Pretzel Bombs
The perfect finger food that are a perfect bite size appetizer to impress your guests.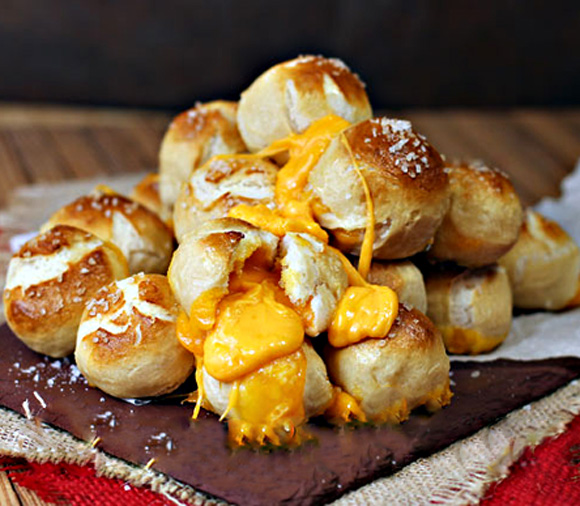 Ingredients
2¼ teaspoons active dry yeast
1¼ cups warm water (110°-120°)
2 tablespoons granulated sugar
3¼ cup all-purpose flour
1 pound block mild cheddar cheese
1 teaspoon kosher salt
½ cup baking soda
1 large egg
coarse salt
Directions
Preheat oven to 450°. Line a baking sheet with parchment paper or spray with cooking spray.
Pour water into the bowl of a stand mixer (see note if you do not have a stand mixer), sprinkle yeast over top, add sugar and stir. Allow yeast to bloom for 5-10 minutes. Once it is nice and foamy, it is ready.
Meanwhile cut cheese into 36 even pieces, less than ½ ounce each. Fill an 8 quart pot with water and bring to a boil over medium high heat. In a small bowl beat egg and 2 tablespoons water with a fork. Set aside. Sprinkle clean countertop with ¼ cup flour.
Add flour and salt to mixer. Knead for 3- 5 minutes until the dough comes together in one ball. Add more flour a tablespoon at a time as needed, if bread is too sticky to come together. Dough should be tacky when you pull it out of the mixer, not sticky.
Place dough on floured countertop and knead in flour until it is no longer tacky, just a minute or two. Form dough into a ball. We are going to cut this ball into 36 (somewhat) even pieces. First quarter the ball of dough. Roll each quarter into a fat log. Cut that into 3 pieces. Roll each piece into a log and cut into 3 pieces. When you are done you will have 36 pieces.
Roll each dough piece (one at a time) into a ball and then flatten it into a circle. Add a piece of cheese in the center. Carefully pull each side over the cheese to create a 'cheese package' then roll the dough into a ball. Be careful to make sure you cannot see the cheese through the dough. Tap fingers in flour, pinch any tears and roll again. Set aside and repeat until all you have 36 stuffed dough balls.
Carefully, a sprinkle at a time, add baking soda to boiling water. USE CAUTION: IT WILL BUBBLE UP. Place dough balls into boil water a few at a time. Remove with a slotted spoon after 30 seconds. Place on parchment paper to cool and repeat.
Arrange all pretzel balls on parchment so they are not touching. Brush egg wash onto each one and sprinkle with course salt.
Bake for 8-10 minutes until the tops are browned.
The gooey cheese may escape some of your pretzel bombs. That is a beautiful thing! Scoop all that cheesy goodness up onto the plate and serve.
Notes
You can mix the dough by hand if you do not have a stand mixer. Add water, yeast and sugar. Once the yeast blooms stir in the salt and the flour. Mix with a spoon. Turn dough out onto floured counter top and knead for 3-5 minutes until dough is no longer sticky. Proceed with remaining instructions