Wine Braised Peach Sauce
Peaches poached in white wine what could be better. The sweet and sour elements found in this sauce compliment a roast pork to the nth degree.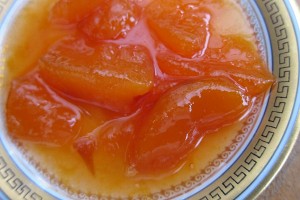 Ingredients
10 ounces frozen peaches, cut into 1-inch chunks (about 2 cups) or 2 fresh peaches, cut into ½-inch wedges
2 cups dry white wine
½ cup granulated sugar
¼ cup plus 1 tablespoon unseasoned rice vinegar
2 sprigs fresh thyme
1 tablespoon whole-grain mustard
Directions
Bring peaches, wine, granulated sugar, ¼ cup vinegar, and thyme to simmer in small saucepan; cook, stirring occasionally, until reduced to 2 cups, about 30 minutes. Stir in remaining tablespoon vinegar and mustard. Remove thyme, and serve warm.