Chardonnay Poached pears with Bousin Cheese on Baked Parmesan Tuile
Want to impress your next dinner guests then give this wow worthy appetizer a try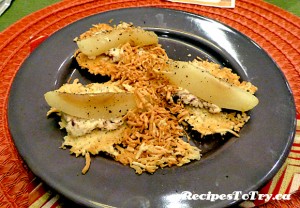 Ingredients
½ bottle Californian Chardonnay
2 Bosc pears peeled and left whole
1 tbsp. honey
2 tbsp. sugar
8 oz. Parmesan cheese grated fresh or pre shredded cheese
4 oz. Boursin Cheese
Directions
Poached Pears
Peel pears and set aside. In a medium pot, whisk together wine and honey. Add pears and bring to a boil. Reduce heat to a simmer and allow to cook covered for 15 - 25 minutes.
Once pears are cooked to the point that they could be easily pierced by a fork, remove using a slotted spoon and set aside.
Baked Parmesan Tuile
Preheat oven to 400 degrees.
Scoop 1 or 2 spoonfuls of grated parmesan cheese onto wax or parchment paper-lined baking sheet, press with back of spoon to flatten and shape into rounds
Bake for about 5 minutes until golden. Remove from oven and let set for 1-2 minutes, then pry from paper with knife or pastry spatula. Shape as desired
Assembly
Put a small amount of boursin cheese on top of baked parmesan Tuile
Put 2a piece of poached pear segment on top of the Boursin
Sprinkle with a little freshly ground black pepper'& Garnish with mint leaf.
Notes
Parmesan cheese must be shredded not the ground
The Parmesan Tuile can be made early in the day or even the day before just store in air tight container after they have cooled.
A Tuile is a thin, crisp, sweet or savory wafer made of dough or cheese. Originally from France, 'Tuile' means tile in French. Tuiles can be shaped if desired (i.e. little bowls, little scoops etc.) Tuiles must be curved while they are hot, otherwise they will crack and break. Tuiles can also be left flat after baking.
Boursin Cheese [buʁsɛ̃] is a trademarked brand of Gournay cheese. It is a soft creamy cheese available in a variety of flavours, with a flavour and texture somewhat similar to cream cheese