Zucchini Noodles with Lemon-Garlic Spicy Shrimp
Spicy shrimp with garlic, zucchini noodles, tomatoes and a squeeze of lemon juice. An Easy, Low Carb, gluten free paleo friendly dish that takes less than 20 minutes to make.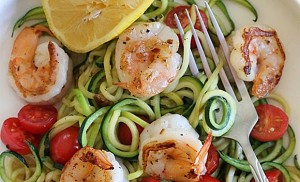 Ingredients
1 ½ teaspoons olive oil
Pinch crushed red pepper flakes
4 oz. peeled and deveined shrimp
2 cloves garlic, sliced thin and divided
1 medium zucchini, spiraled
Pinch salt and fresh black pepper
¼ lemon
¼ cup halved grape tomatoes
Directions
Heat a medium non-stick skillet over medium-high heat. Add 1 teaspoon of the oil and crush red pepper flakes, add the shrimp and season with pinch salt and pepper; cook 2 to 3 minutes. Add half of the garlic and continue cooking 1 more minute, or until the shrimp is cooked through and opaque. Set aside on a dish.
Add the remaining ½ teaspoon oil and garlic to the pan, cook 30 seconds then add the zucchini noodles and cook 1½ minutes. Add the shrimp and tomatoes to the pan and squeeze the lemon over the dish. Remove from heat and serve.
Notes
Weight Watchers Points old points 5 Points + 6
Nutrition Information
Serving size:
1
Calories:
207
Fat:
8.4
Saturated fat:
1.1 g
Carbohydrates:
9.6 g
Sugar:
3.6 g
Sodium:
443 mg
Fiber:
2.6 g
Protein:
26.1
Cholesterol:
181 mg