Meatloaf potatoes carrots Mini Instant pot
This complete meal is comforting food at its best and ready in less than 30 minutes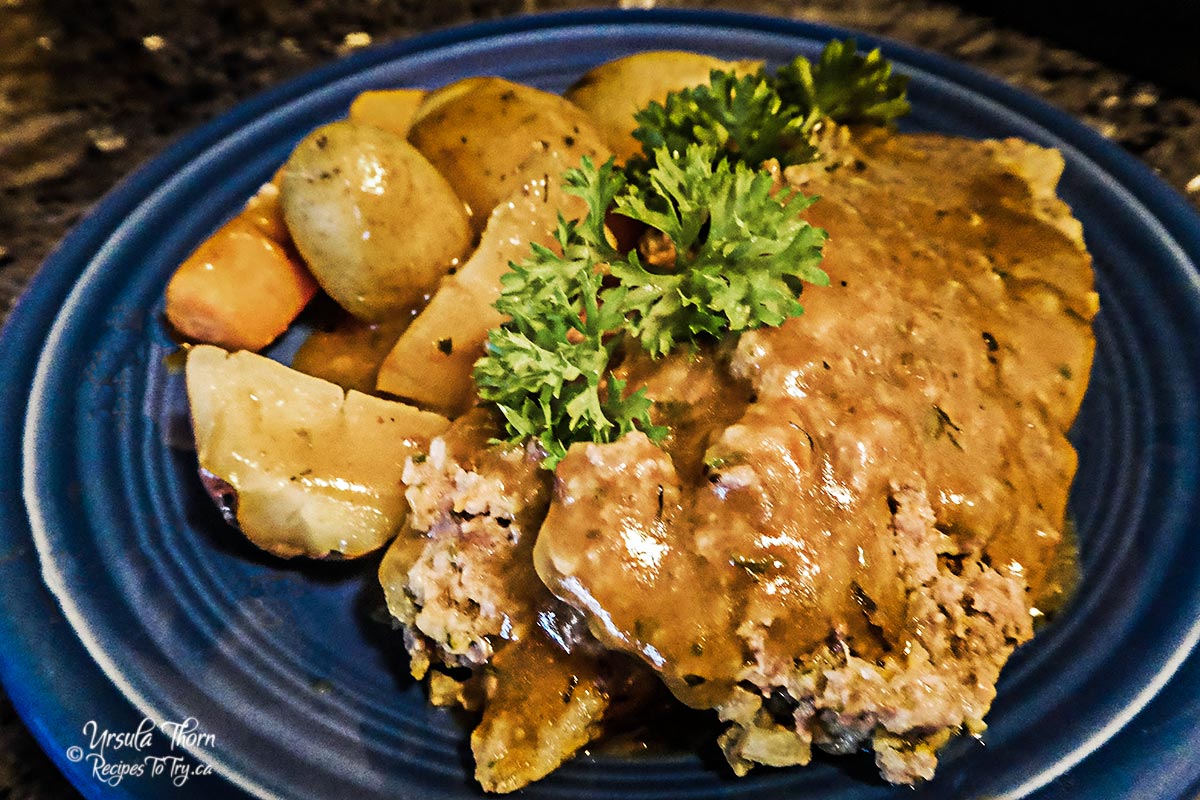 Source:
Adapted from Kitchdreaming.com
Prep time:
Cook time:
Total time:
Ingredients
Meatloaf
2 tbsp milk
1 egg
⅓ cup of panko, Japanese breadcrumbs
½ cup of sweet onion, minced finely
2 cloves of garlic minced
2 tbsp carrot minced finely
2 tbsp celery minced finely
2 tbsp fresh parsley minced
1 lb of lean ground beef
Salt and black pepper, to taste
Or use premade meatloaf ground beef from the grocery store
Vegetables:
5-6 small red potatoes cleaned and halved
1 medium carrot cut into 2-inch pieces
1 cup water
Gravy
2 tbsp. butter,
2 tbsp. flour,
2 cups of reserved liquid from the instant pot, add beef stock to make 2 cups
1 beef bullion cube,
1 tsp. Italian seasonings
pepper salt to taste.
Directions
Meatloaf
If using meatloaf pre-mix skip down to place in the pan
Whisk together the milk and egg in a small bowl; add the Panko crumbs and set aside until all the milk has been absorbed.
Meanwhile, mince the onion, garlic, carrot, celery, and parsley together in a food processor.
In a large bowl, combine the Panko mixture, onion mixture, ground beef, salt, and black pepper, to taste.
Mix together gently with just your fingertips.
Once combined, form the mixture into a loaf. Place in a greased 6 " baking pan or use an aluminum foil packet (see notes)
Instant Pot
Add the potatoes & carrots in the pot. Place the rack over the potatoes and carrots add 1 cup of water. Place the pan of meatloaf or packet of aluminum foil on top
Cover with the lid and lock the pressure cooker making sure the pressure release valve is set to "sealing."
Select "Manual" and cook at High Pressure for 20 minutes. When done do a quick release. Once the pot has released the pressure, carefully open the lid.
Confirm the meatloaf's internal temperature is at least 160°F with a food thermometer.
Serve with or without topping the meatloaf with barbeque sauce, tomato sauce glazes or gravy. I love the gravy made from the juices from the instant pot and meatloaf pan.
Gravy Directions
Turn instant pot to sauté when hot melt the butter stir in the flour cook for a minute add the liquid stirring while adding until all is incorporated. Add the beef bullion cube and seasonings. Stir to combine.
Notes
Instead of a baking pan place meatloaf on a sheet of aluminum foil making sure the meatloaf fits into your pressure cooker.
Fold the sheet of aluminum foil up and around the meatloaf to form a packet, leaving the top open slightly to release the steam.