Heather's Harissa Mango Chicken Stir-Fry
A one pot meal that is very tasty with the bonus of being oh so healthy. Omit the chicken, and you have a great side dish. : A friend gave me this recipe, and I added a couple of ingredients. The first time I made it I forgot to add the chicken and honestly, I didn't miss the chicken at all. The photo is also hers and what a delicious looking photo it is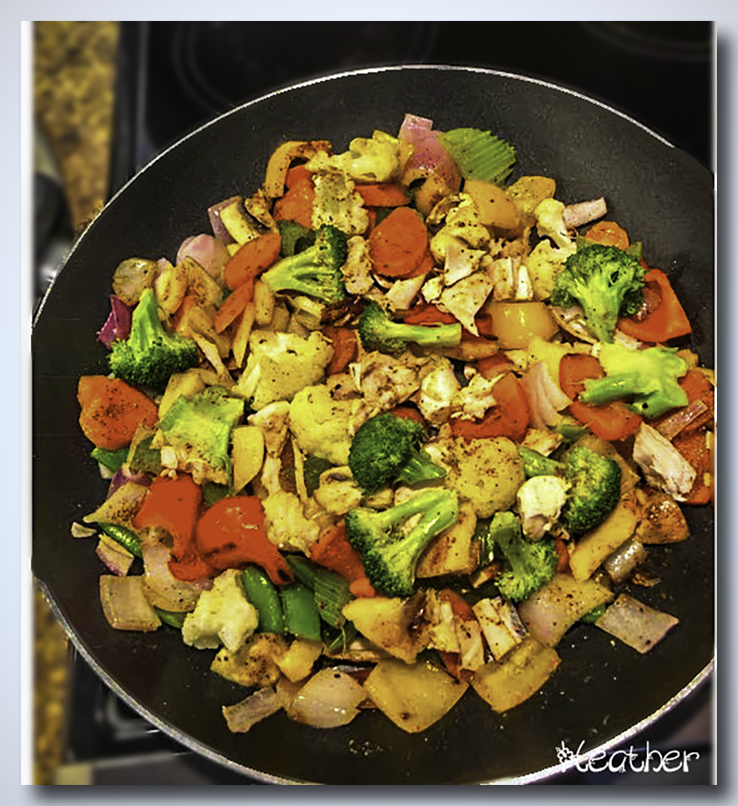 Recipe type:
Stir Fry Side Dish Main Dish
Prep time:
Cook time:
Total time:
Ingredients
The veggie mix Makes about 6 cups
½ Red Pepper roughly chopped
½ Yellow pepper roughly chopped
1 Carrot medium sliced
1 Broccoli stem broken into small bite-sized pieces
¼ small head of Cauliflower cut into small bite-sized pieces
120-gram bag Snow peas, de-stringed
180 gm mushrooms sliced
1 small red onion roughly chopped
For stir fry
2 tsp oil
1 tablespoon butter
¼ inch piece of ginger peeled and minced for each cup of veggie mix
1 clove of garlic for each 1 cup of veggie mix
Mango peeled and chopped
2 oz chicken cooked and cut into bite-size pieces (optional) for each cup of mixed veggies
¼ cup dried cranberries (optional)
¼ cup peanuts or other nuts (optional)
1 tsp Harissa
Salt and pepper to taste
Directions
Mix the veggies. Microwave the veggies you wish to use for about 1 minute per cup. Just to soften the vegetables.
Heat oil in a non-stick frying pan until simmering add butter when butter is melted add garlic and ginger sauté 30 seconds and then add the veggies and sauté for another 3 minutes. Add the chicken to the veggies. Heat chicken through for about 2 minutes. Add the mangoes, cranberries & nuts. Sprinkle the mixture with Harissa to taste. Add salt and pepper. Mix and heat. Serve immediately.