Steak & Kidney Pie
This is very tasty even though the name is a misnomer as the pie does not use steak but a cheaper cut of meat.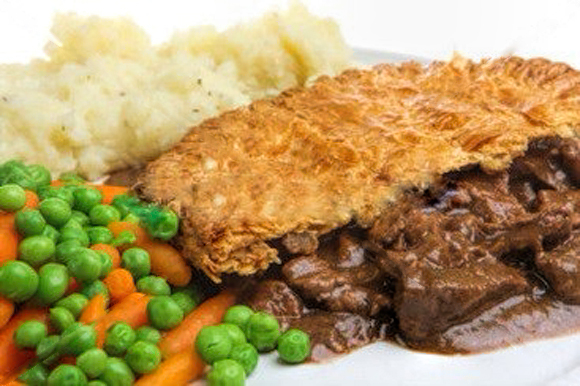 Ingredients
1 lb lean beef stew meat cut in ½ inch pieces
1 Kidney (about 1 lb) center white core removed and cut into ½ inch pieces
¼ cup flour
½ tsp. salt
½ tsp. pepper
6 slices bacon chopped
1 package Tenderflake Puff Pastry (397 gm. boxed) used only half thawed.
1 egg beaten slightly
1 onion chopped
1 large carrot grated
6 oz. of cremini (brown) mushrooms sliced or quartered
1 tsp. chopped garlic
1 cup beef stock
½ cup red wine
2 tbsp. Worcestershire sauce
1 tsp. mustard
1 tsp. ground thyme
1 tbsp. tomato paste
Directions
Cook the 6 chopped slices of bacon in a Dutch oven over medium high heat until crisp. Remove the bacon and place on paper towel.
Mix the ½ cup of flour, ½ tsp. salt, and ½ tsp. Pepper in a large bag and shake to mix. Place the beef and kidney in the bag and shake again to coat all the meat with the flour mixture.
Brown the beef and kidney in the bacon fat in the Dutch oven over medium high heat. About 10 to 15 minutes. Remove the browned meat and place in bowl and set aside.
Add the onion, grated carrot, and sliced mushrooms to the Dutch oven add olive oil if not enough bacon grease remaining. Cook until soft about 8 minutes. Add garlic and cook another minute. Add the Beef stock and wine to the vegetable mixture and scrap the bottom of the bottom to lift all the browned bits. Add Worcestershire sauce, thyme, mustard, tomato paste and stir to mix. Add the beef and kidney and bacon bits into the pot. Heat to simmering.
Cover and place in 325 degree F oven for 2 to 3 hours until beef is tender.
Roll out puff pastry in a large rectangle. Cut into 6 smaller rectangles.
After the beef and kidney is done remove from oven. Turn up the oven to .
Place the Beef and Kidney mixture into 6 Aluminum Foil ware containers. and cover with the puff pastry rectangles. The puff pastry rectangles do not have to fit exactly. Brush the pastry with the beaten egg or could just bake the puff pastry rectangles separately on a cookie sheet. This would be better if you plan on freezing some of the Beef and Kidney pies as it will avoid the puff pastry from getting to soggy.
Put the containers on a cookie sheet and bake in the oven for about 30 minutes.
Notes
If you wish to freeze this. Remove the pastry puffs from the beef and kidney pie and cover the container with the lid that came with the foil ware containers. Place the puff pastry on top of the lid and cover with plastic wrap before freezing.