Fruit Salad with Honey-Lime Dressing
Easy to make and delicious to boot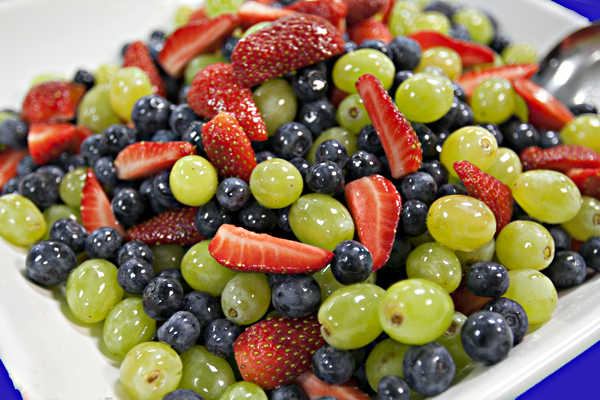 Source:
difficult to determine the source as it is in several sites also saw it on Pinterest. I picked chowtimes.com but I have slightly adapted it.
Ingredients
1 pt. container strawberries
1 pt. container blueberries
1 bunch (about 1 ½ lbs.) seedless grapes (green, red or a mixture of both)
¼ cup honey
juice from 2 limes (about 2-3 tablespoons
Directions
Rinse strawberries, blueberries and grapes.
Gently pat dry the fruit. Hull strawberries, then cut each in half; if large, cut into quarters.
Remove stems from blueberries, if any.
Remove grapes from stems.
Gently combine all three in a large bowl or aluminum tray. Set aside.
In a small bowl, whisk together honey and lime juice. Pour over fruit.
Refrigerate until ready to serve.
Notes
Use any fruit you have on hand (think melons, bananas, canned or fresh pineapple, Canned mandarin oranges, etc.). Top with toasted pine or almonds for crunch