Ham and Cheese Puffs
These are simple and delightful! They can be baked and frozen then just brought out and thrown in a toaster oven when needed!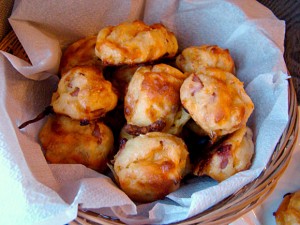 Prep time:
Cook time:
Total time:
Ingredients
1 cup water
⅓ cup butter
½ teaspoon salt
1 cup flour
4 eggs
1½ cups Shredded Sharp (Old) Cheddar cheese
1 cup ( approx 7 oz or 200 grams) ham, (can be leftover baked ham or deli ham) or crisp bacon, finely chopped
½ to 1 teaspoon dry mustard
1 can (4 oz. /114 ml) chopped Jalapenos, drained (optional)
Directions
Combine water, butter, and salt in a heavy saucepan and bring to a boil.
Remove from heat Add the flour all at once Beat with a wooden spoon until well mixed , Return to medium heat stirring vigorously, until the batter leaves the sides of the pan and a ball of paste forms.
Remove from heat Add eggs, one at a time, beating vigorously after each one until the dough is smooth. (Be patient and beat thoroughly)
Stir in cheese, ham, Jalapenos (if using) and dry mustard.
Place heaping teaspoonful on a lightly greased cookie sheet.
Bake at 400 F for 15 to 20 minutes until firm and golden.
Notes
If you are going to freeze best to double the recipe IF FREEZING: Allow to cool completely and store in an airtight container between layers of wax paper. Reheat if frozen 350° oven for 5 to 10 minutes.

If using fresh Jalapeno peppers use 1 medium - large one

One bag of shredded sharp cheddar cheese yields 3 cups just perfect if doubling recipe