Turkey Scallopini with Mushrooms and Grizzly Gouda
Turkey scallopini with mushrooms sautéed in butter, served in a cream sauce with Grizzly Gouda and accompanied by a lovely crispy Tuile of this same cheese. A different and delicious way to prepare turkey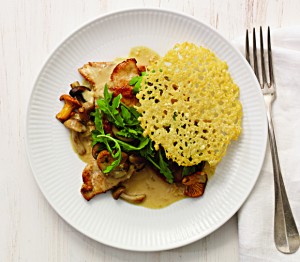 Ingredients
1 oz. (30 g) finely grated and 1 ½ oz (45 g) coarsely grated Grizzly Gouda
2 Tbsp. (30 mL) butter
⅔ lb (300 g) turkey cutlets
Salt and freshly ground pepper
1 clove garlic, chopped
1 cup (250 ml) assorted mushrooms (Portobello, oyster, shiitake, enoki, white, etc.), sliced
⅓ Cup (75 mL) white wine
¼ cup (60 mL) 18% cooking cream
¾ cup (175 mL) baby arugula or baby spinach
Directions
Preheat oven to 425F (220C).
On a parchment-lined baking sheet, form two discs with finely grated Gouda to make tuiles.
Bake in the oven until crisp, about 5 minutes. Let cool.
Lower oven temperature to 325F (160C).
In a skillet over high heat, melt butter and brown turkey cutlets for 2 minutes on each side.
Season with salt and pepper.
Transfer to an oven-safe baking dish and continue cooking in the oven while preparing the sauce.
In the same skillet, brown garlic and mushrooms.
Season with pepper.
De-glaze with white wine, add cream and coarsely grated Gouda.
Stir until cheese is melted.
Arrange cutlets on plates and top with sauce. Garnish with arugula and a Gouda Tuile.
Notes
Grizzly Gouda is made in Alberta you can substitute another Gouda or Parmesan cheese if you like.
Gouda Tuiles may be cooked in advance and reserved at room temperature
Watch the Video on how to make this dish