Bacon & Fig Quinoa Crust Pizza
A very tasty gluten-free pizza that is so delicious you will probably eat the whole pizza all by yourself in one sitting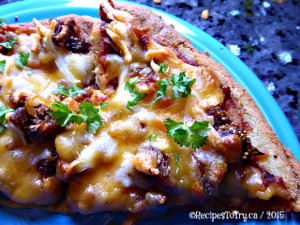 Ingredients
Quinoa pizza crust
⅓ cup quinoa
¼ teaspoon baking powder
Dash of salt
2 ½ tablespoons water
Topping
20 grams of bacon bits crisp
⅓ cup low fat cheddar cheese shredded
2 dried Figs chopped about
3 tablespoons tomato sauce
¼ teaspoon red Chile flakes
¼ teaspoon oregano
Directions
Preheat the oven to 425°F
Place the quinoa in a small bowl and cover it with water. Let the quinoa soak overnight or for at least 8 hours. Drain and thoroughly rinse the quinoa (this will prevent any bitterness in the crust). Place the quinoa, 2 ½ tablespoons water, ¼ teaspoon baking powder, and salt in the jar or bowl of a smoothie food processor. Process until a smooth batter forms, about 2 minutes, scraping down the sides of the processor as necessary. Will resemble a thick pancake batter.
Line an 8 round cake pan coming up the sides with parchment paper (to prevent the batter from running under the paper (it may help to spray the pan with cooking spray first so that the parchment sticks), and then spray the parchment paper with cooking spray. Pour the batter into the pan and smooth with a rubber spatula.
Bake the crust for 15 minutes at 425°F.
Remove the parchment paper from under the crust.
Flip the crust over and return to the oven for 5-8 more minutes, or until golden and the edges are crispy.
Remove from the oven spread the tomato sauce over the crust sprinkle with oregano and chili peppers; add the figs, bacon and cheese. Return to the oven and bake for another 7-8 minutes, or until the cheese has melted.
Remove, let cool for a few minutes in the pan, transfer cutting board and slice.
Nutrition Information
Serving size:
½ of pizza
Calories:
244
Fat:
7.4 g
Saturated fat:
2.4 g
Carbohydrates:
32.4
Sugar:
10.2 g
Sodium:
548 mg
Fiber:
4.2
Protein:
13.2
Cholesterol:
15 mg