Asian Stir Fry Pork &Cabbage or Egg Roll in A Bowl
Asian Stir Fry Pork & Cabbage or Egg Roll in a Bowl tastes just like the inside of an egg roll, but without the wrapper tastes just as good if not better as leftovers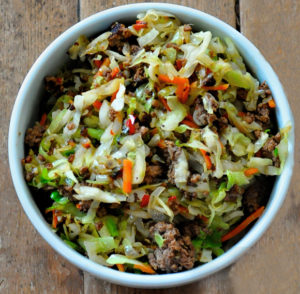 Ingredients
1-pound ground pork
½ head cabbage, shredded
1 cup shredded carrot
1 teaspoon sesame seed oil
½ cup low sodium soy sauce
1 teaspoon rice vinegar
5 cloves garlic, minced
1 teaspoon ginger
sliced green onion
sesame seeds
Directions
In a large skillet, brown ground pork.
Meanwhile, combine sesame seed oil, rice vinegar, garlic, soy sauce and ginger in a small bowl and set aside.
Add the cabbage and carrot to the skillet and toss to combine. Stir in the soy sauce mixture.
Cover and cook until the vegetables are soft, about 15 minutes.
Garnish with green onion and sesame seeds.
Notes
You can use ground beef, chicken or turkey (If using lean meats like chicken or turkey add a ¼ cup chicken broth
Nutrition Information
Serving size:
272 g
Calories:
236
Fat:
5.3 g
Saturated fat:
1.6 g
Trans fat:
0 g
Carbohydrates:
13.1 g
Sugar:
4.8 g
Fiber:
3.4 g
Protein:
33.6 g
Cholesterol:
83 mg