Pineapple Cucumber Salad with Tropical Dressing
The sweetness in the pineapple is balanced by the acidity in the tropical dressing and the crunchiness of the cucumber. This Salad is easy, eye catching, so refreshing and delicious that it will have your guests coming back for seconds.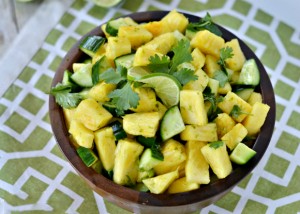 Ingredients
Salad
1 pineapple, chopped
1 English cucumber, chopped
⅓ cup cilantro, roughly chopped
Salt and pepper (optional)
Tropical Dressing
3-5 teaspoons fish sauce,
1 teaspoon freshly grated lime zest, plus more for garnish
2 tablespoons lime juice
1 tablespoon canola oil
2 teaspoons light brown sugar
1 teaspoon rice vinegar
¼ teaspoon crushed red pepper
Directions
Combine the Salad ingredients and toss to combine.
Make the dressing by whisking the ingredients together in a bowl until combined well.
Pour dressing over the Salad.
Notes
To make this salad even more healthy omit the tropical dressing and just add 2 limes, zested and juiced to the salad ingredients before tossing.
Nutrition Information
Serving size:
101 g
Calories:
51
Fat:
2.5 g
Carbohydrates:
7.5 g
Sugar:
4.8 g
Sodium:
237 mg
Protein:
.8 g
Cholesterol:
0 mg