Spicy Honey Mustard Chicken
A super quick marinade with a delicious heat. Say goodbye to boring chicken breasts!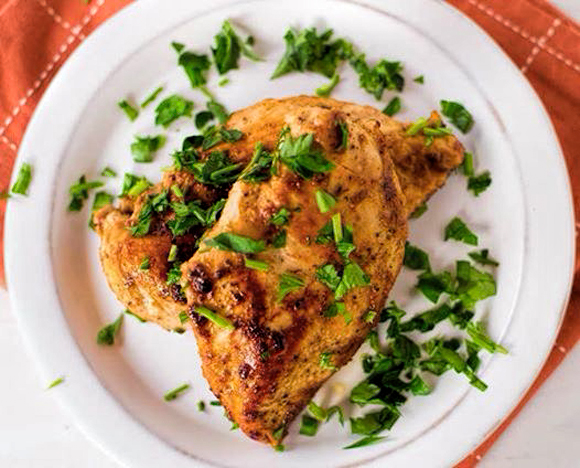 Ingredients
¼ cup honey
⅓ cup spicy brown mustard
½ tsp. Paprika
½ tsp. Kosher salt
½ tsp. pepper
2 tbsp. apple cider vinegar
1 tsp. Garlic powder
½ tsp. Cayenne
½ tsp. cumin
1 tbsp. olive oil
2 lbs. boneless, skinless chicken breast
optional garnish: chopped Italian parsley
Directions
Prepare the marinade by combining all the ingredients but the chicken in a small mixing bowl.
Cover the chicken breasts with the marinade. Cover and let sit in the fridge for 1-2 hours, or up to overnight.
Cook on medium-high in 1 tbsp. Olive oil, occasionally flipping, until cooked throughout and golden brown on all sides.
Notes
Feel free to use chicken thighs or legs instead of the breasts all equally tasty
How to make this Dish