Kale, Butternut Squash, and Onion Frittata
Sweet butternut squash, Kale, & sautéed onion is incorporated into a colorful frittata that makes a great breakfast that is a tasty and low-calorie meal.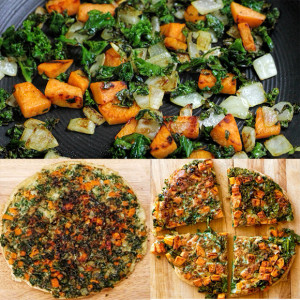 Recipe type:
Breakfast, Brunch
Prep time:
Cook time:
Total time:
Ingredients
⅓ cup Egg Creations (or any carton of egg whites)
½ cup butternut squash chopped into very small ¼ cubes (save the rest for another use)
1 teaspoon extra-virgin olive oil
1 shallot, chopped
Kosher salt and freshly ground pepper, to taste
½ teaspoon Squash seasoning**
1 ½ cups kale leaves (about 2 stems), chopped (ribs and stems removed)
Directions
Preheat the oven to 450 F
Beat the egg whites in a large mixing bowl with a large whisk until they form soft peaks. Season with some salt and pepper. Set the eggs aside in the fridge while you cook the vegetables. Combine the cubed butternut squash with ⅓ cup water in a large, non- stick, oven-safe skillet over high heat. If you don't have a large non-stick skillet, you can use a regular, oven-safe skillet. Just be sure to coat it thoroughly with oil. Bring to a boil, then reduce the heat to a simmer and cook, stirring occasionally, just until all the water has evaporated and the sweet potato is soft on the outside, about 8-10 minutes. As soon as the water is evaporated, add the olive oil and onion, stir together, and season with Squash seasoning, salt and pepper. Cook over medium heat, often stirring, until the onion starts to soften, about a minute. Add the chopped kale and cook, often stirring, until the kale is wilted and dark green, about 2 minutes more. Spread the vegetables evenly over the bottom of the skillet, and then pour the egg mixture on top and spread it in an even layer. Bake in the preheated oven until the frittata is puffed, cooked through, and very lightly browned on top, 5 to 6 minutes.
Let the frittata cool in the skillet for 5 minutes, then flip it onto a cutting board and cut it in half.
Notes
**For the Squash Spice mix
1 tablespoon onion powder,1 tablespoon garlic powder, ½ teaspoon smoked paprika, ¼ teaspoon cayenne pepper, ½ teaspoon kosher salt,2 tsp brown sugar. This mix makes a lot but is wonderful with any
roasted squash recipe
just save the rest in a spice jar or zip lock baggy.
You can use sweet potato or yams for the butternut squash and chopped onion for the shallot.
Frittatas are essentially Italian style open-faced omelettes. Unlike a classic French omelette, frittatas don't get folded over, and getting a little browned on the edges is encouraged.
Nutrition Information
Serving size:
182 grams
Calories:
88
Fat:
2.4
Carbohydrates:
16 g
Sodium:
32 mg
Fiber:
2.4 g
Protein:
2.8 g
Cholesterol:
0