Glazed Beets and Cabbage with Pepper-Toasted Pecans
Who knew Red Cabbage and beets went together so well.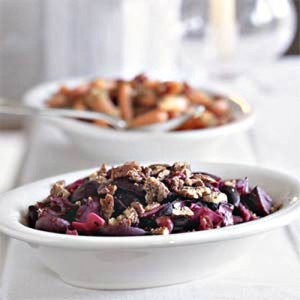 Ingredients
Toasted Nuts
1 teaspoon stick margarine
2 teaspoons sugar
Dash of ground red pepper
Dash of black pepper
Dash of ground cinnamon
½ cup chopped pecans
Cooking spray
Cabbage/Beets
4 slices of bacon crisp crumbled bacon
3 beets peeled and chopped
¼ cup red currant jelly
¼ cup red wine vinegar
¼ teaspoon salt
⅛ teaspoon white pepper
¼ teaspoon ground cloves
2 thinly sliced shallots
½ head of coarsely chopped red cabbage
Directions
Nuts:
Preheat oven to 325°.
Melt the margarine in a small saucepan over medium heat. Add sugar, red pepper, black pepper, and cinnamon; cook 30 seconds, stirring constantly. Remove from heat; stir in pecans. Spread pecan mixture onto a baking sheet coated with cooking spray. Bake at 325° for 8 minutes; cool. Set aside.
Cabbage/Beets
In a Dutch oven or large heavy pot cook bacon until crisp. Remove crumble and set aside. Remove all but one tablespoon of the rendered bacon fat. Add the sliced shallots and cook until soft about 6 minutes. Add the currant Jelly and wine vinegar, salt and, pepper ground cloves, red cabbage and beets to the pot. Bring to a boil.
Reduce Heat to low cover and simmer until tender about 50 minutes. Stirring occasionally. When cooked add bacon and cook for another 5 minutes. Serve with a topping of the roasted nuts.
Notes
I just use a Packaged pepper toasted nut like Schale's Snackes which you can find at Walmart. Very similar to the above recipe.