Slow Cooker Orange and Ginger Beef Stew
This Asian inspired beef stew has a deep earthy flavor from the five-spice powder and a hint of orange and ginger.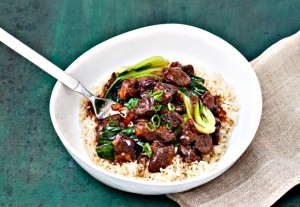 Prep time:
Cook time:
Total time:
Ingredients
900 g boneless beef pot roast, (top or bottom blade, or cross rib)
1 onion, chopped
1 jalapeno pepper minced
1 tbsp. olive oil
2 tbsp. (30 mL) minced fresh ginger
2 tbsp. (30 mL) orange marmalade
2 tbsp. (30 mL) sodium-reduced soy sauce
½ tbsp. (15 mL) packed brown sugar
¾ tbsp. (15 mL) five-spice powder
1 tbsp. (15 mL) grated orange zest
2 cloves garlic, sliced
¾ tsp (4 mL) salt
½ tsp (2 mL) pepper
1 cup (250 mL) sodium-reduced beef broth
½ cup (125 mL) orange juice
2 tbsp. (30 mL) cornstarch
4 cups (1 L) chopped cored quartered baby bok choy, (about 200 g)
3 green onions, sliced
¼ cup (60 mL) fresh cilantro leaves, torn
Directions
Trim any excess fat and sinew from beef; cut into () pieces.
In fry pan, heat the oil until shimmering. Brown the beef cubes in batches. Do not overcrowd. Place in slow cooker.
After the beef has been browned, add onion to frying pan and sauté until translucent, add the ginger and garlic cook for 1 minute. Add the marmalade, soy sauce, brown sugar, five-spice powder, orange zest, salt & pepper, stir in broth and orange juice. Bring to a boil. Pour over the beef in the slow cooker. Cover and cook on low for 6 to 8 hours.
Whisk cornstarch with 2 tbsp water; whisk into slow cooker. Stir in bok choy. Cover and cook on high until slightly thickened and bok choy is wilted, about 10 minutes. Stir in green onions and cilantro.
Notes
Boy Choy can be quite sandy, so be sure to wash thoroughly before chopping. Serve over brown rice
Nutrition Information
Serving size:
263 g
Calories:
277
Fat:
9 g
Trans fat:
0.0
Carbohydrates:
11.7 g
Sugar:
6.1 g
Sodium:
513
Fiber:
1.3 g
Protein:
23 g
Cholesterol:
101 mg