Roasted Brussels Sprouts with Apples and Bacon
Salty bacon, sweet apples and caramelized Brussels sprouts are combined in this truly outstanding side dish.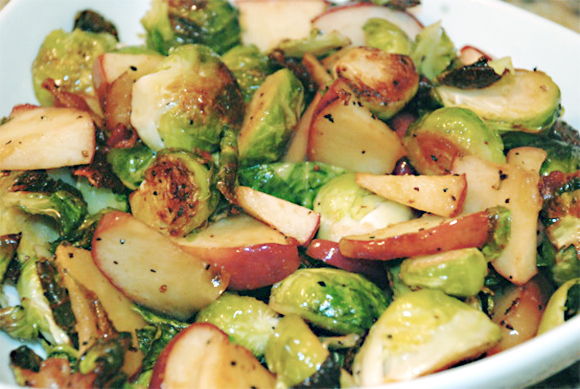 Ingredients
3 slices of bacon, cut into ½ inch Pieces
6 cups medium Brussels sprouts, ends trimmed and then halved
1 medium apple, I used a Fuji apple, cut into ¼" slices and then halved
kosher salt, to taste
freshly ground black pepper, to taste
1-2 teaspoons red wine vinegar
Directions
Preheat oven to 425 degrees. Arrange bacon in a single layer on a large baking sheet. I line with a Silpat mat or foil for easier cleaning. Bake for about 10 minutes, until cooked through, but not yet crispy.
Remove the bacon pieces from the sheet and set aside. Add the Brussels sprouts and toss them in the bacon drippings. Make sure they are as well coasted as possible. Season well with salt and pepper. Roast them until they begin to brown, about 15 minutes.
Add the apple pieces and the cooked bacon to the Brussels sprouts on the baking sheet and roast until the sprouts are tender and browned and the apple has softened a bit, about another 10-15 minutes.