Candied Pecans
AMAZING! Crunchy, sweet, and salty. You can't eat just one.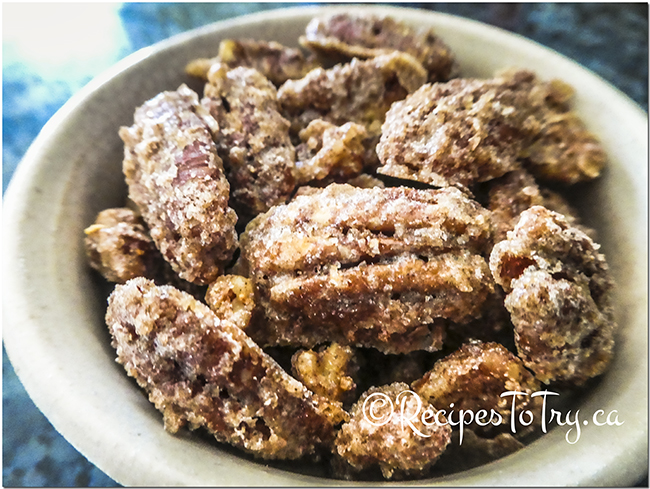 Ingredients
cup white sugar
1 teaspoon ground cinnamon
1 teaspoon salt
¼ teaspoon nutmeg
¼ teaspoon orange peel (zest)
1 egg white or ¼ cup liquid egg white
½ tablespoon water
½ tablespoon vanilla
1 pound pecan halves
Directions
Preheat oven to 250 degrees F (120 degrees C).
Mix sugar, cinnamon, nutmeg, orange peel, and salt together in a bowl.
Whisk egg white, vanilla, and water together in a separate bowl until frothy. Toss pecans in the egg white mixture. Take out the pecans with a slotted spoon and transfer to large zip lock bag. Add the sugar mixture to the bag with the pecans and shake the bag until evenly coated. Spread coated pecans onto a baking sheet covered with parchment paper.
Bake in the preheated oven, stirring every 15 minutes until pecans are evenly browned, about 1 hour.
Let nuts cool completely on sheet.