Baby Potatoes with Garlic, Tomatoes and Prawns: ActiFry
Great as a main dish or as a side dish. Quick and easy as well as very tasty.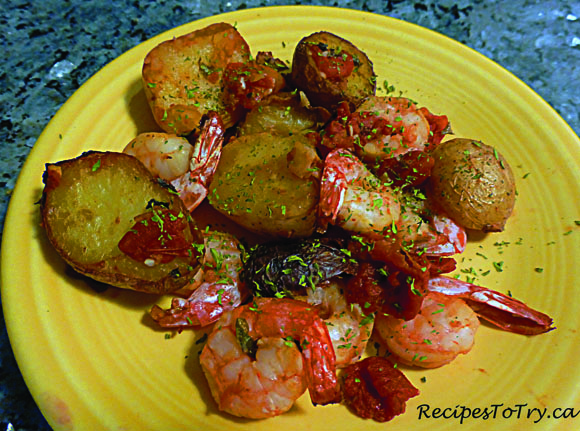 Ingredients
12. small Baby Potatoes, cut in half unpeeled
1 ActiFry Spoonful's Light Olive Oil
2 teaspoons Garlic minced
½ teaspoon each of Fresh Parsley, Thyme, and Oregano chopped fine
1 cups diced tomatoes, drained + ⅓ cup of its juice
½ tsp Frank's Hot Red Pepper Sauce
12 Raw, peeled prawns
Salt And Freshly Ground Black Pepper, to taste
Directions
Place the potatoes into the ActiFryer with the oil. Let cook for 20 minutes or until almost cooked through.
Add in the garlic, parsley, thyme, oregano, tomatoes and juice, Frank's Hot Red Pepper Sauce to taste; cook for 10 minutes.
Add the prawns Season with salt, pepper to taste; cook for a further 5 minutes (only until prawns are cooked);
Notes
Can use frozen precooked shrimp. Just place the unthawed shrimp into the actifryer and cook 5 minutes or heated through.