Sussex Pub Stew
This very tasty and tender herbed beef stew is better the day after and great over egg noodles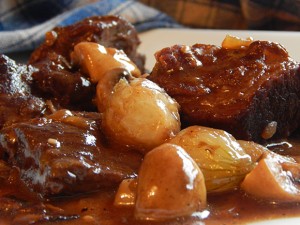 Ingredients
4 slices bacon
1 kg (2 lbs) beef round cut into 2.5 cm (1 inch) cubes
50 ml (1/4 cup) all-purpose flour
2 mL (1/2 tsp.) salt
1 mL (1/4 tsp) pepper
12 – 16 pearl onions, peeled
150 g (1/2 lb) small fresh mushrooms
25 mL (2 tbsp.) chopped parsley
175 mL (3/4 cup) dry red wine
25 mL (2 tbsp.) French's Hot English Style Mustard
25 mL (2 tbsp.) brandy, (optional)
1 mL (1/4 tsp.) thyme
1 clove garlic, crushed
1 bay leaf
Directions
Cook bacon until crisp in large skillet, reserving drippings. Remove bacon and crumble. Shake beef with flour, salt and pepper in plastic bag to coat well. Brown beef about half at a time, in drippings in skillet. Transfer to a 3 L (3-quart) casserole. Add onions, mushrooms and parsley. Stir broth, wine mustard, brandy, thyme garlic and any remaining flour into drippings in skillet. Heat to boiling, stirring to loosen brown bits. Pour over beef and vegetables. Add bay leaf. Bake, covered at 180 C (350 F) for 1 ½ to 2 hours, or until tender. Remove bay leaf,. Stir in crumbled bacon.
Notes
See "
How to Peel Pearl Onions
" in "Food & Cooking Tips" to quickly peel these small onions or 4 large onions peeled and quartered can be substituted.