Stuffed Pork with crisp potatoes, Brussels sprouts and a baby green salad
A recipe inspired by the winning recipe from the Master Chef Canada Mystery Box Challenge. An aromatic fig, walnut and apple stuffing with a seared savory Za'atar pork chop finished with a white wine pan sauce drizzled over the crisp Parmesan Potatoes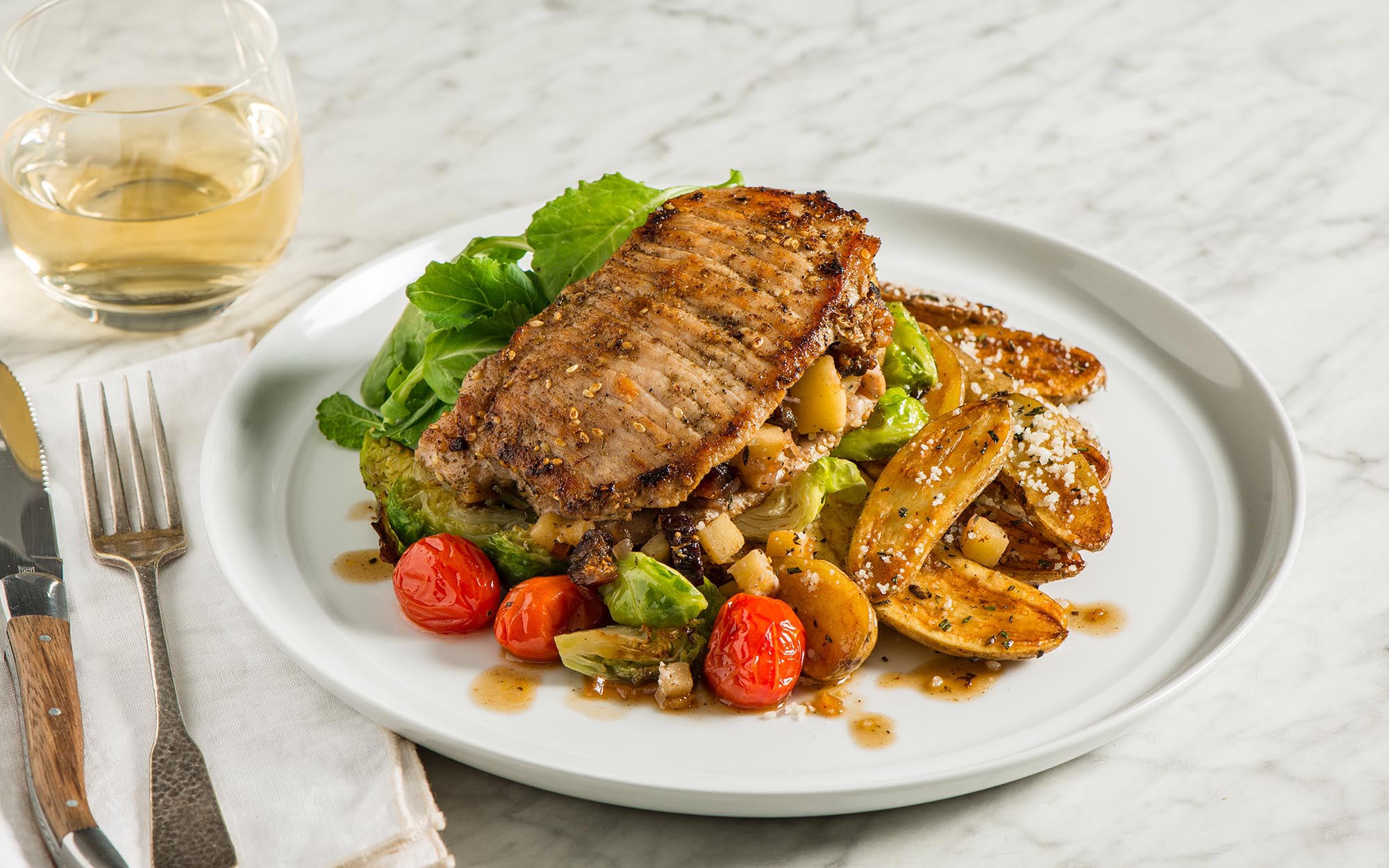 Ingredients
Baby Kale
6 oz Brussels Sprouts quartered
5 oz Cherry Tomatoes
1 oz Black Mission Figs finely chopped
½ oz Walnuts
1 large Shallot small diced
4 gm Fresh Rosemary
½ oz Parmesan Cheese
2 oz White Wine
½ oz Butter
3 gm Za'atar
1 gm Dried Thyme
1 oz Apple Cider Vinegar
4 tbsp. oil divided
Directions
Preheat the oven to 450 F
Prepare the Black Mission figs, rosemary, shallot, brussels sprouts, fingerling potatoes, apple
Prepare 2 parchment-lined baking sheets
In a bowl add the fingerling potatoes, rosemary and 1 tbsp of oil season with salt and pepper toss to coat
Arrange the potatoes, cut sides down on the pan. Roast 25 minutes
In the same bowl add the Brussels sprouts, cherry tomatoes and 2 tsp of oil season with salt and pepper and toss to coat Arrange the vegetables on the second pan Roast for 18 min until Brussels sprouts are crisp. (Place in the oven 7 minutes after the potatoes were placed in the oven. That way they will come out at the same time.
While the veggies & potatoes roast— Add ½ of the butter in a large non-stick frying pan over medium heat until melted. Add the apple, black mission figs, walnuts, dried thyme and ½ of the diced shallot. Cook for 3-5 min, stirring occasionally until the nuts are toasted. Season with salt and pepper. Add ¾ of the apple cider vinegar and cook for 30 sec. stirring to deglaze the pan, remove the stuffing from the pan and set aside
Wipe the pan clean
Dry the pork chops with a paper towel and season all sides with the Za'atar seasoning and salt and pepper. Arrange the pork on a work surface like a book and fill with the apple walnut stuffing. (there will stuffing left) Fold the chop to close use and use toothpicks to hold together. In the frying pan used earlier add 2 tsp oil and when shimmering add the pork chop and cook for 4 minutes per side ( or until the pork reaches 160F). Set the pork aside to rest. Be very careful not to overcook the pork as it will become dry and tough.
In the same pan heat 2 tsp of oil over medium until hot. Add the remaining shallot and cook for 1 min, until softened. Add the white wine and cook for 1-2 min until reduced by half stirring and scraping the bottom to release any brown bits. Off heat, add the remaining butter and stir to melt. Season with salt and pepper
Return the roasted potatoes to a bowl and add the parmesan cheese with 1 tsp of oil. Toss to coat.
In another bowl add the remaining apple-cider vinegar and 2 tsp oil whisk together. Add the baby kale toss to coat.
Serve the stuffed pork over the roasted vegetables and potatoes. Drizzle the white wine sauce over the top. Serve with he baby green salad.
Notes
Deglazing the pan with the white wine helps to release the flavor-packed fond at the bottom of the pan, boosting the impact of the sauce.