Stuffed Pork Tenderloin with Green Peppercorn Sauce
Tender Pork stuffed with Apricots and Feta Cheese complimented with a Jack Daniels and Green Peppercorn sauce. Delicious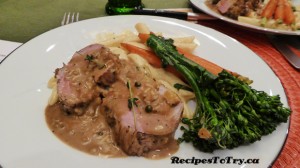 Ingredients
2 pork tenderloins (about 600 gm or 1 ½ lbs)
1 tbsp. (15 ml) butter
½ cup (125 ml) white wine
Stuffing
1 clove garlic, minced
½ cup (125 ml) Canadian Feta crumbled
2 cups Panko crumbs
1 shallot chopped fine
1 cup chopped apricots (or cranberries, apples, dates or combination of these to make one cup)
Ground pepper and salt
Green Peppercorn sauce
60 g (2 oz) shallots, very finely chopped
4 tablespoons unsalted butter
500 ml (16 fl oz.) beef stock
2 tablespoons green peppercorns, lightly crushed
125 ml (4 fl oz.) Jack Daniel's, plus 75 ml (2½ fl oz.) extra
125 ml (4 fl oz.) cream (optional)
Directions
Directions
Stuffing:
In a bowl, mix Feta cheese with garlic, apricots (or fruit combination) panko crumbs and ground pepper to taste. Moisten with wine
Tenderloin
Trim 2 inch (5 cm) off the skinny end of each tenderloin and a make a slit, lengthwise, so you can split them open. Stuff tenderloins with Feta mixture, keeping it in the centre, and then close to trap in the stuffing. Tie with string.
I a skillet, melt butter over high heat and brown the stuffed meat on all sides. Deglaze with wine.
Place tenderloin on a grate in a baking pan and add some of the left over wine in the pan. Bake at 350 degrees F until internal temperature reaches 145 degrees F about 1 hour
Remove pork from skillet: untie string and let stand, covered with foil and let rest 5 to 10 minutes.
Peppercorn Sauce:
Warm whiskey in a small pan over low heat. Return skillet to medium heat. Add shallots and cook, stirring frequently, until lightly browned, 1-2 minutes. Add green peppercorns, then whiskey, and carefully ignite with a kitchen match. When flames die out, continue cooking for 1 minute. Add stock and cream and cook, stirring, until reduced by half, Add butter, a few pieces at a time, swirling skillet over heat until melted and sauce is velvety, 2-3 minutes. Adjust seasonings.