Spinach Salad with Honey Dressing & Honeyed Pecans
A Delicious and Flavorful combination that will surely become a favorite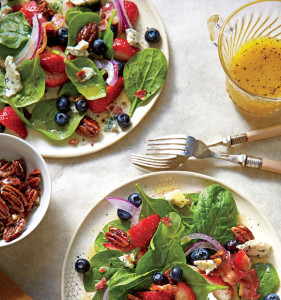 Ingredients
Salad
1 (.) package baby spinach
1 cup quartered fresh strawberries
½ cup thinly sliced red onion
½ cup fresh blueberries
3 to 4 cooked bacon slices, crumbled
¼ cup crumbled blue cheese
⅓ cup white balsamic vinegar
2 tablespoons honey
1 tablespoon Dijon mustard
½ teaspoon salt
½ teaspoon black pepper
⅔ cup extra virgin olive oil
¼ cup honey
1 cup pecan halves
Parchment paper
Cooking spray
1 tablespoon sugar
¼ teaspoon Kosher salt
Pinch of ground red pepper
Directions
Dressing
Whisk together vinegar, honey, Dijon mustard, salt, and pepper. Add olive oil in a slow, steady stream, whisking constantly until smooth
Honeyed Pecans
Preheat oven to 325°. Microwave honey in a bowl at HIGH 20 seconds. Stir in pecan halves. Coat a parchment paper-lined jelly-roll pan with cooking spray; spread pecans in a single layer on pan. Combine sugar, salt, and a pinch of ground red pepper; sprinkle over pecans. Bake 15 minutes or until toasted, stirring after 8 minutes. Cool completely; break into pieces.
Salad
Toss together first 4 ingredients and ⅓ cup dressing. Sprinkle with bacon, cheese, and pecans. Serve with remaining dressing.
Notes
Make the
honeyed Pecans
the day before. Honeyed Pecans add a touch of sweetness and crunch to your favorite green salad. Make extra because Honeyed Pecans are good for snacking, too.
Salad dressing
. Use any leftover Honey Dressing to marinate meat or perk up plain rice.
For added variation to the
salad
, you can add feta cheese crumbles instead of the blue cheese crumbles or other fruits like mandarin orange segments.