Spiced Tropical Bruschetta
A bruschetta with a little extra spice that is nicely balanced by the mango and papaya. Your friends and family will love it. . Also good as a topping for grilled chicken or fish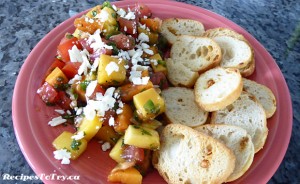 Serves:
8 (3 baguettes per person)
Ingredients
1 ½ cups fresh tomatoes chopped about 3 medium sized
1 mango & Papaya to make 1 ½ cups chopped same size as tomatoes
2 tablespoons chopped fresh cilantro
2 tablespoons chopped fresh mint
⅓ cup red onion chopped
1 Jalapeno Pepper chopped very very small
1 Tablespoon Lime Juice
2 tablespoons olive oil
1 tablespoon balsamic vinegar
1 teaspoon sugar
¼ teaspoon salt
¼ teaspoon ground pepper
Bread baguette sliced and toasted
2 tablespoons feta cheese
Directions
Whisk the olive oil, balsamic vinegar, sugar, salt, pepper, cilantro and mint, in a medium sized bowl. Add mango, papaya, tomatoes, onion and mix. Refrigerate until ready to serve.
Serve on toasted baguette slices. Top with the feta cheese.
Notes
You can use just mango if papaya isn't available or inconvenient to use.
Increase or decrease the Jalapeno Pepper to your taste