Spaghetti Carbonara
30-Minute Pasta Carbonara that features a cheesy sauce flavored with jalapeno, rosemary and garlic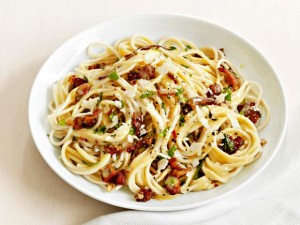 Prep time:
Cook time:
Total time:
Ingredients
Kosher salt
6 slices thick-cut bacon, cut into ½-inch pieces
2 tablespoons extra-virgin olive oil
3 cloves garlic, crushed
½ teaspoon minced fresh rosemary
2 red jalapeno peppers, seeded and minced
¼ cup cognac or brandy (optional)
12 ounces spaghetti
3 large eggs
¾ cup freshly grated Parmesan cheese, plus more for garnish
½ cup freshly grated Pecorino Romano cheese
2 tablespoons chopped fresh parsley
Freshly ground pepper
Directions
Bring a large pot of salted water to a boil. Combine the bacon, olive oil, garlic, rosemary, jalapenos and ¼ cup water in a large skillet. Cook over medium-high heat, stirring occasionally, until the water evaporates and the bacon crisps, about 12 minutes. Discard the garlic. Add the cognac, if desired, and cook until it evaporates. Remove from the heat and set aside ¼ cup bacon mixture for garnish.
Meanwhile, cook the spaghetti in the boiling water as the label directs. Mix the eggs, cheeses, parsley and 1 teaspoon pepper in a bowl. Drain the pasta, reserving ¼ cup cooking water.
Return the skillet to medium-high heat. Add the pasta and toss until heated through, 1 to 2 minutes. Remove from the heat. Whisk the reserved pasta water into the egg mixture, then quickly pour over the pasta and toss to gently cook the eggs and make a creamy sauce. Garnish with the reserved bacon mixture and more Parmesan.