Smoked Cheddar Popovers
Serve these little pieces of heaven to your friends and family, and they'll think you have slaved in the kitchen for hours. They're delicious straight out of the oven.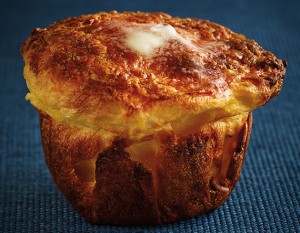 Ingredients
3 eggs
1 1⁄4 cups whole or 2 percent milk
1 1⁄4 cups all-purpose flour, sifted
1⁄4 teaspoon salt
3 tablespoons butter, melted, plus more for greasing pan
3⁄4 cup shredded smoked cheddar cheese
Directions
Adjust oven rack to middle position and preheat oven to 400°F.
Butter 8 muffin or popover cups and set aside.
Beat eggs in a large mixing bowl, then gradually pour in milk, whisking until mixed well.
Gently spoon flour into egg mixture, a little at a time, whisking after each addition until well blended and very few lumps remain. Whisk in salt and butter; fold in cheddar.
Ladle batter into each cup, filling about 3⁄4 full.
Bake until puffy and golden brown, about 40 to 45 minutes. 7. Let cool slightly. Loosen each popover with a knife to remove from pan. Serve warm with butter, if desired.
Notes
Popovers are kind of like savory cream puffs... light and airy on the inside and just slightly crispy on the outside. The secret to light and airy popovers is very light mixing and a very very hot oven for baking. The pan should be sizzling hot when you pour in your batter. They are best served fresh and hot. While you can use a regular muffin pan, you won't get the same results. Popover pans are very deep and far enough apart to keep them separate as they bake