Slow Cooker Sweet and Sour Braised Red Cabbage
So good! It's wonderful served alongside pork chops, pork roast or Ham.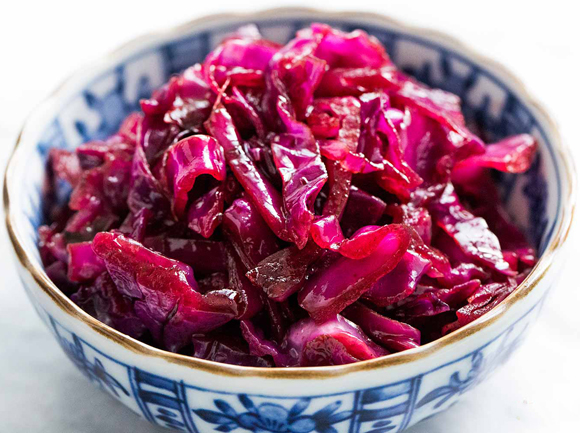 Source:
Magazine America's test Kitchen Slow Cooker Revolution Jan 2012 slightly adapted
Ingredients
1 head red cabbage (), cored and sliced thin
2 apples (granny smith) cored, peeled and sliced into ¼ inch slices.
1 tablespoon vegetable oil
Salt and pepper
4 ounces bacon (about 4 slices), minced
1 onion, minced
2 sprigs fresh thyme or 2 teaspoon dried
1 cinnamon stick or ¼ teaspoon ground cinnamon
½ teaspoon caraway seeds
¼ teaspoon ground allspice
1½ cups apple cider
2 tablespoons light brown sugar, plus extra as needed
3 bay leaves
2 tablespoons cider vinegar, plus extra as needed
Directions
Microwave cabbage with oil and ½ teaspoon salt in bowl, stirring occasionally, until softened, 15 to 20 minutes. Drain cabbage and discard liquid; transfer to slow cooker.
Cook bacon in 12-inch skillet over medium-high heat until crisp, about 5 minutes. Add onion, thyme sprigs, cinnamon stick, caraway seeds, and allspice and cook until onion is softened and lightly browned, 8 to 10 minutes. Stir in ½ cup cider, scraping up any browned bits; transfer to slow cooker.
Stir remaining cup cider, 1 tablespoon sugar, and bay leaves, and apple into slow cooker. Cover and cook until cabbage is tender, 4 to 6 hours on low.
Discard thyme sprigs, cinnamon stick, and bay leaves. Stir in vinegar and remaining tablespoon sugar. Season with salt, pepper, additional sugar, and additional vinegar to taste and serve. (This dish can be held on warm setting
For 1 to 2 hours before serving.)
Notes
The slow cooker, with its moist heat environment, is perfect for braising cabbage. However, adding the cabbage directly to the slow cooker left it too crunchy for our liking. To get the texture just right, we had to precook it in the microwave to soften it slightly. This step had the added benefit of getting rid of excess moisture that was otherwise detracting from the flavors of the dish. For the braising we selected sweet and fruity apple cider, enhancing it with traditional spices such as cinnamon, caraway seeds, and allspice. A bit of sugar rounded out the sweetness while vinegar perked up the flavors and added balance. Since tasters found the cabbage a little lean, we added bacon, which imparted a smoky depth and richness.