Slow Cooker Aloha Pork chops
Tropical dinner made easy, anytime –Love that! Tender and flavorful with little effort.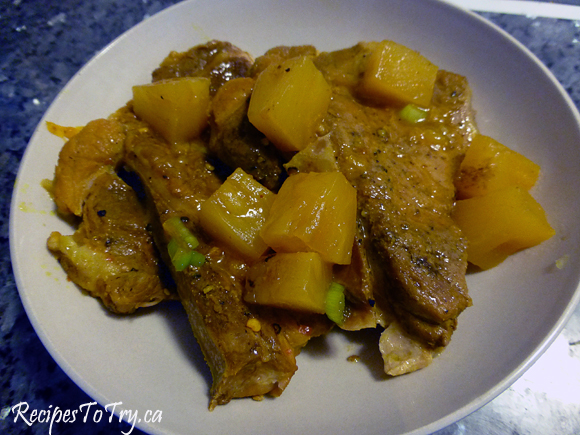 Source:
magazine America's Test Kitchen Slow Cooker Revolution Jan 2012
Prep time:
Cook time:
Total time:
Ingredients
1 (2O-ounce) can pineapple chunks (or tidbits) in juice
¼ cup packed brown sugar
1 Tablespoon cider vinegar
1 Tablespoon soy sauce
2 teaspoons curry powder
½ teaspoon ground ginger
½ teaspoon red pepper flakes
6 (7-ounce) bone-in blade-cut pork chops, about thick, sides slit to prevent curling
Salt and pepper
1 Tablespoon water
2 teaspoons cornstarch
2 scallions, sliced thin
Directions
Combine pineapple with juice, sugar, vinegar, soy sauce, curry powder, ginger, and red pepper flakes into slow cooker.
Season pork chops with salt and pepper and add to slow cooker. Cover and cook until pork is tender, 6 to 8 hours on LOW or 3 to 5 hours on HIGH.
Remove pork chops to serving platter, cover loosely with foil, and let rest for 10 minutes.
Meantime, skim fat from surface of juices left in the crockpot with a large spoon.
Whisk water and cornstarch together in bowl. Transfer cooking juices to saucepan, add cornstarch mixture, and simmer until reduced to 2 cups - about 12 minutes.
Stir in scallions and season with salt and pepper to taste. Spoon 1 cup sauce over chops and serve with remaining sauce.
Notes
To prevent the pork chops from curling cut two slits, about apart, into one side of each chop