Short Ribs Red Wine & Herb Braised (Instant Pot)
These Instant Pot made Short Ribs are fork tender and braised in a Red Wine & Herbs sauce giving them a rich, flavorful taste that you will love. So quick & easy to make in the Instant Pot. A perfect recipe for the Instant Pot mini (3 quarts)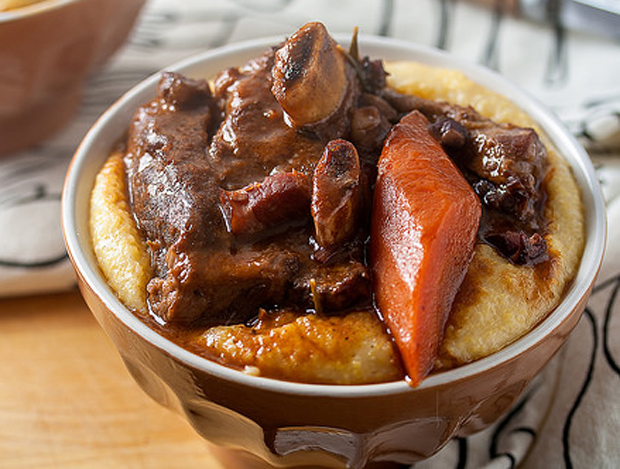 Prep time:
Cook time:
Total time:
Ingredients
1 ½ - 2 lbs (700 gm – 1 kg) fat trimmed off
3 oz (85 gm) Pancetta*, diced
2 Tablespoons Olive Oil
¼ cup Potato Starch **
½ teaspoon Kosher Salt (or to taste)
¼ teaspoon Freshly Ground Black Pepper (or to taste)
½ medium Onion, coarsely chopped
2 medium Carrots, cut into 1.5-inch pieces (4 cm)
1 Shallot, thinly sliced
2 cloves garlic, chopped
½ cup good Red Wine
½ cup Beef Broth
2 sprigs Fresh Rosemary ***
2 sprigs Fresh Thyme ***
Directions
Prepare the vegetables: wash, dry, chop the ½ onion, shallot, 2 carrots and 2 cloves garlic; set aside
Chop up Pancetta; set aside
Dry the ribs with a paper towel then salt and pepper the Short Ribs on all sides and then dredge in Potato Starch. Shake off excess starch and set aside.
Select Sauté/Browning and allow the pot to heat until hot (Instant pot will display Hot when hot enough) Add Olive Oil, and diced Pancetta sauté for 3 -4 minutes.
Add ribs, brown on all sides do not crowd if necessary do in batches (crowding the ribs will result in steaming the ribs instead of browning). Remove to a plate and repeat, until all ribs are nicely browned. Set aside
Add in shallots, onions, garlic and carrots to the cooking pot and mix to coat with the oil & pancetta grease sauté for 5 minutes.
Pour in Red Wine and deglaze the cooking pot, making sure to scrape up all the browned bits (brown bits = flavour) Turn off Instant Pot
Push aside the vegetables and place the ribs in the cooking pot beside the vegetables. To fit the ribs in the instant pot, you may have to put the vegetables on top of the ribs. Pour in Beef Broth. The liquid should almost reach the top of the ribs. Add more beef broth if necessary Place the Rosemary and Thyme sprigs on top.
Lock the lid in place and ensure that the Pressure Valve is closed. Cook on high pressure for 45 minutes. When Beep sounds, let pressure release naturally and then remove the lid.
Skim off fat off excess fat**** if using right away.
Notes
* If you do not have Pancetta you can use 2 slices of bacon
** you do not have potato starch you can use cornstarch of Flour
*** If you do not have fresh herbs you can use a ¼ teaspoon dried Thyme and dried Rosemary.
****If making ahead you can place the Cooking Pot in the refrigerator for a few hours or overnight, so the fat will rise to the surface and harden, making it easier to remove.
Short Ribs taste even better, the next day.