Shepherd's Pie
Craving for some serious comfort food. This Shepard's pie is rich and satisfying, and is sure to please.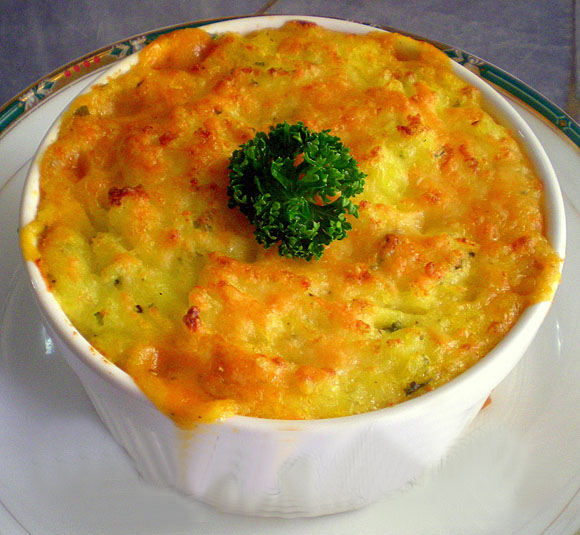 Ingredients
FOR THE POTATOES—
2 lb. russet potatoes, peeled and cubed
½ cup milk
¼ cup unsalted butter
kosher salt to taste
2 egg yolks
FOR THE FILLING—
2 lb. ground lamb or ground beef Sirloin
1 cup diced onion
1 cup diced carrot
2 Tbsp. extra-virgin olive oil
7 oz. mushrooms, diced
1 tsp. ,minced garlic
1 Tbsp. tomato paste
¼ cup all-purpose flour
½ cup dry red wine
2 cups low-sodium beef broth
1 Tbsp. minced fresh thyme
1 Tbsp. Worcestershire sauce
Kosher salt and black pepper to taste
2 cups of shredded cheddar cheese
Directions
Preheat oven to 400°.
Cook potatoes in boiling salted water in a saucepan until tender, 12–15 minutes; drain.
Return them to pan to dry over medium heat, about 1 minute; remove from heat.
Mash potatoes with milk and butter; season with salt. Cool potatoes 5 minutes; stir in yolks.
Brown lamb or Beef in a sauté pan over medium heat about 8 minutes or until browned,
Drain meat in a colander or sieve.
Sauté onion, mushrooms and carrot in oil in the sauté pan over medium heat 8 to 10 minutes.. Add garlic and tomato paste; cook 1 minute, stirring frequently.
Stir in flour. Deglaze pan with wine, then add broth and thyme. Simmer until liquid reduces and thickens into a gravy, stirring frequently, about 8 minutes
Stir in lamb or beef, Worcestershire; sauce season with salt and pepper.
Pour lamb mixture into a 2- 3 qt. baking dish or you could use individual baking dishes, then top with mashed potatoes. Using a fork, spread the potato topping evenly over the meat mixture. The fork tines add interesting texture. Sprinkle the cheddar cheese evenly over the top of the mashed potatoes.
Place dish on a foil-lined baking sheet in the center of the oven (will make cleaning easier if it bubbles over); bake until pie is bubbling and golden brown, 30–40 minutes.
Notes
If you prefer, beef easily can be substituted for the lamb. For best results, use ground beef Sirloin. Add egg yolks only after potatoes have cooled slightly. Hot potatoes could curdle the yolks.