Sausage and Cabbage Soup
This is a savory, hearty and figure-friendly fall or winter soup that is simple to prepare, and delightful to enjoy. Add any other vegetables you have on hand to enhance the delicious vegetable flavors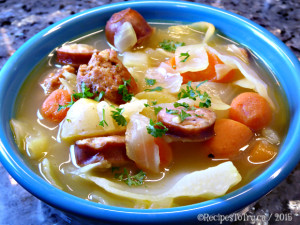 Ingredients
1 small head cabbage, coarsely chopped
1 medium onion, chopped
4 to 6 garlic cloves, minced
2 tablespoons olive oil
4 cups fat-free chicken broth
3 tablespoons cider vinegar
1 tablespoons brown sugar
1 pound hot Italian sausage cut into ½ -inch pieces
2 medium potatoes, peeled and cubed
3 large carrots, chopped
½ teaspoon caraway seeds (optional)
½ teaspoon pepper
1 ½ teaspoon or one packet Sazon Seasoning Mix*
Directions
In a Dutch oven or soup kettle, sauté Sausage, cabbage, onion and garlic in oil for 5 minutes or until tender. Combine the broth, vinegar, and brown sugar; add to cabbage mixture.
Stir in remaining ingredients. Bring to a boil. Reduce heat; cover and simmer for 60-70 minutes or until vegetables are tender.
Notes
*Sazon is like the magic spice blend in many of my Latin dishes. It's commonly found in the supermarket in small envelopes that you add to stews, beans, rice, etc. It gives yellow rice that yellow color and makes anything taste good! Goya is the most popular brand or it is very easy to
make your own Sazon seasoning mix
.
Substitute Turkey or Chicken sausage for the Italian Sausage to further reduce the calories.