Salmon with Asparagus & Roasted Grapes x
An easy & delicious one pan dish meal that is ready in under 30 minutes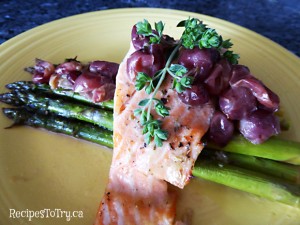 Recipe type:
Cruisinart Convection Steam Oven Recipe
Prep time:
Cook time:
Total time:
Ingredients
1 cup red grapes
For the Asparagus
¾ lb of asparagus, trimmed
1 tsp.
Olive oil
¼ tsp garlic, minced
Fresh ground salt and pepper
For the salmon
2 - . salmon fillets
1 tbsp. honey
1 tsp Dijon mustard
½ tsp Italian spice mix
1 sprig fresh thyme
Fresh ground pepper & salt
Directions
Place asparagus in single layer on a foil covered baking pan (saves time on cleaning).
Sprinkle the oil, garlic and salt and pepper over the asparagus.
Mix the honey and Dijon must together.
Place the salmon fillets on top of the asparagus and brush with the honey Dijon mixture. Sprinkle with Italian herb mix, salt, pepper and place a sprig of thyme on top
Surround the vegetables and salmon with the grapes.
Put in the Cuisinart convection steam oven in the middle rack position and set the oven to Bake Steam at for 15 minutes.
Notes
Feel free to experiment with different herbs