Root Beer Float Pie
This Root Beer Float Pie is creamy, dreamy, and ultra delicious! You'll be shocked at how close to a root beer float it tastes! It is sure to bring back childhood memories. An added bonus the calories have been cut down to make this more of a quilt free dessert.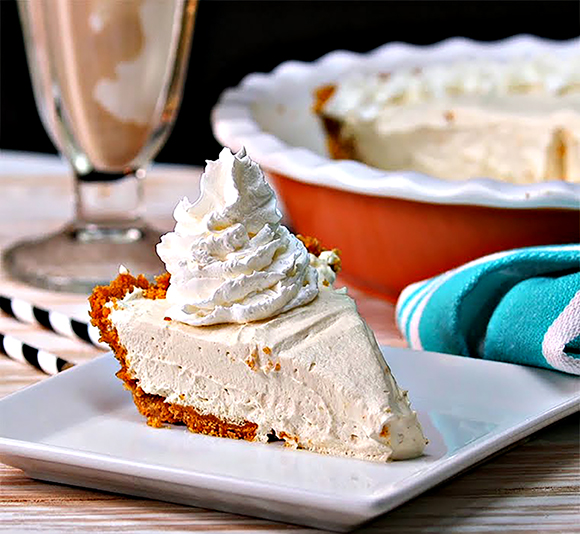 Ingredients
For the Crust
1½ cups crushed graham cracker crumbs
¼ cup sugar
⅛ teaspoon salt
6 tablespoon butter, melted
For the Filling
1 8 oz. container lite frozen whipped topping, thawed
¾ cup cold root beer diet
⅓ cup milk
1 1 oz package sugar-free instant vanilla pudding mix
2 teaspoon Root Beer concentrate, optional
whipped cream, for garnish
Directions
Preheat oven to 350. Lightly spray a 9-inch pie plate with non-stick cooking spray.
For the Crust
Combine graham cracker crumbs, sugar, and salt in a bowl.
Add in melted butter and stir until graham cracker mixture is coated.
Press mixture into prepared pie plate.
Bake for 8 minutes or until crust just starts to turn light golden brown. Remove to a wire rack to cool completely.
For the Filling
In a large bowl, whisk together root beer, milk, pudding mix, and root beer concentrate for about 5 minutes, or until mixture starts to thicken.
Carefully fold in whipped topping until combined.
Pour mixture into cooled pie crust. Refrigerate for 4 hours or until set.
Top with whipped cream and serve.
Notes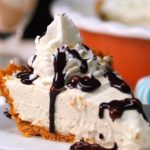 This pie is easily prepared with a pre-made crust and decorated with chocolate sauce or sprinkles for a party. Can also be frozen if not using right away
Nutrition Information
Serving size:
1 piece
Calories:
185
Fat:
8 g
Saturated fat:
4 g
Carbohydrates:
27 g
Sugar:
14 g
Sodium:
275 mg
Protein:
1 g
Cholesterol:
0
 Here's a Video on how this is made.