Roasted Yams/Sweet Potatoes with Spiced Maple Syrup & Pecans
This recipe has a great combination of flavors. The cayenne doesn't make it spicy hot but lends an interesting note to the maple syrup/butter sauce.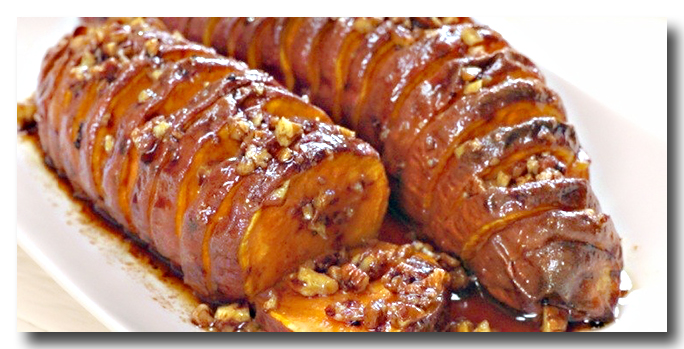 Ingredients
⅔ cup candied pecans
3 pounds sweet potatoes, cut into large dice
Salt and pepper
2 tablespoons vegetable oil
4 tablespoons unsalted butter
3 tablespoons maple syrup
¼ teaspoon cayenne pepper
Directions
Heat oven to 450 degrees F and arrange the rack in the middle.
Place sweet potatoes on a baking sheet, drizzle with oil. Season well with salt and freshly ground black pepper, and toss to coat. Roast until golden brown and tender when pierced with a knife, about 30 to 45 minutes.
Meanwhile, melt butter in a small saucepan over medium heat. When it foams, stir in maple syrup and cayenne and let cook briefly about 1 minute. Serve sweet potatoes with a drizzle of maple butter and a scattering of pecans.
Notes
could add ¼ teaspoon ground cinnamon,¼ teaspoon ground allspice, Pinch of Kosher salt. Zest of one orange (optional) to maple syrup