Roasted Salmon Baby Potatoes & Carrots (Cuisinart Convection Steam Oven)
A quick and delicious one pan meal which comes out of the oven ready to eat in 15 minutes.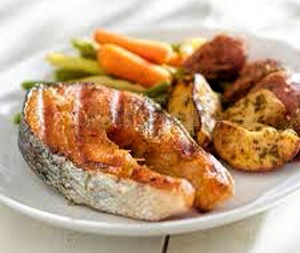 Ingredients
Seasoning Mix
½ tsp Basil Leaves
½ tsp Garlic Powder
¼ tsp Oregano Leaves
¼ tsp Rosemary
¼ tsp Kosher Sea Salt
¼ tsp ground pepper
The rest
2 tsp olive oil
2 salmon fillets, skin on 4 oz. each
1 lb baby potatoes mixed cut in half
1 lb baby carrots
1 tbsp. sugar
Directions
Mix seasonings in small bowl. Sprinkle 1 tsp over salmon cover and set aside in the fridge.
Micro wave potatoes and carrots until almost done
Sprinkle the oil on the vegetables mix to coat them add the rest of the seasonings mix and sugar mix again.
You could at this point cover and put in fridge with salmon until ready to eat.
Place the salmon and vegetables on the foil wrapped baking sheet. Put in the Cuisinart Convection Steam oven with the rack in the lowest position. Set to bake steam at 450° F for 15 minutes
Notes
You could use different root vegetables with this. I used Baby Choy but did not precook like you would with root vegetables and it was very good.