Roasted Harvest Vegetables
A medley of carrots, onions, parsnips and squash gets a subtle sweet and spicy boost from nutmeg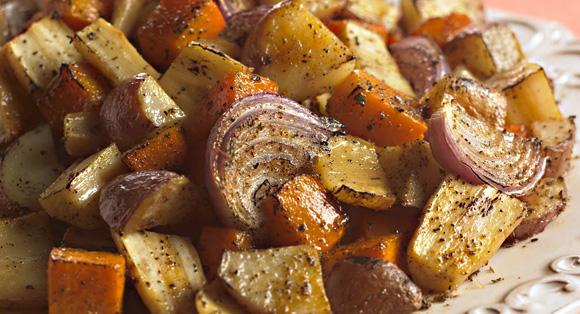 Prep time:
Cook time:
Total time:
Ingredients
½ teaspoon McCormick® Sage, Rubbed
1 teaspoon Lawry's® Seasoned Salt
½ teaspoon McCormick® Black Pepper, Ground
3 tablespoons olive oil
½ teaspoon McCormick® Nutmeg, Ground
2 cups cut-up red potatoes, chunks
1½ cups cut-up carrots, chunks1½ cups cut-up red onions, chunks
1½ cups cut-up butternut squash, chunks
1½ cups cut-up parsnips, chunks
Directions
Preheat oven to 450 F . Mix seasoned salt, pepper, nutmeg and sage in small bowl. Toss vegetables with oil in large bowl. Sprinkle seasoning mixture over vegetables; toss to coat well.
Spread vegetables in single layer on foil-lined 15x10x1-inch baking pan.
Bake 30 to 35 minutes or until vegetables are tender and golden brown.

For Sweet & Savory Roasted Harvest Vegetables: Prepare as directed, using 1 tablespoon packed brown sugar, 1 teaspoon McCormick® Ground Cinnamon, ½ teaspoon each McCormick® Ground Ginger and salt, and ¼ teaspoon McCormick® Ground Nutmeg for the seasoning mixture.
Nutrition Information
Calories:
100
Fat:
4 g
Carbohydrates:
15 g
Sodium:
165 mg
Fiber:
3 g
Protein:
1 g
Cholesterol:
0