Roasted Chicken and Vegetable Melody (Cuisinart Convection Steam Oven Recipe)
A melody of vegetables in a flavorful sauce with juicy, moist roasted chicken that bakes in one pan. Delicious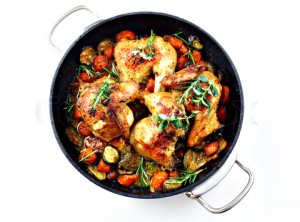 Ingredients
1 cup low-sodium chicken broth
1 ½ teaspoons cornstarch
½ cup white wine
4 garlic cloves, peeled and smashed
2 teaspoons minced fresh thyme
6 -7 chicken thighs or chicken pieces bone-in, skin-on
1 tablespoon vegetable oil
2 tablespoons unsalted butter
fresh ground salt & pepper
12 Brussels sprouts (if large cut in half.
2 medium carrots cut in 2 inch pieces
10 baby potatoes cut in half
8 to 10 mushrooms
2 shallots peeled and cut in half
Directions
) Whisk 2 tablespoons broth and cornstarch in small bowl until no lumps remain; reserve. Combine remaining broth, wine, garlic, and thyme in large measuring cup.
) Pat chicken dry with paper towels and season with ½ teaspoon salt and ¼ teaspoon pepper. Heat oil in large oven safe skillet over medium-high heat until just smoking. Cook chicken, skin side down, until well browned, 6 to 10 minutes. Flip and cook until lightly browned on second side, about 2 minutes.
) Place vegetables in baking pan with Brussels sprouts in the center and the carrots, potatoes, mushrooms, and shallots around the outside in one layer. Place the chicken thighs on top of the vegetables.
) Slowly pour broth mixture into skillet and bring to boil. And reduce to 1 cup of broth. Pore the broth into the baking pan with the vegetables and chicken.
) Put on lower rack in the Cuisinart Convection Steam Oven put on bake steam, 450°F for 20 minutes. When done Chicken will registers 160 for white meat or 175 for dark meat let sit covered with foil while you finish the sauce.
) Pour pan juices into liquid measuring cup; skim and discard fat. Return defatted pan juices to the empty skillet. Bring to boil over medium-high heat. Reduce heat to medium-low and simmer until sauce is reduced to 1 cup again. Add reserved cornstarch mixture and simmer until sauce is slightly thickened, about 2 minutes. Off heat, whisk in butter. Season with salt and pepper. Pour sauce over vegetables and around the chicken.
Notes
You can use any combination of white and dark meat. For even cooking, halve breasts crosswise and separate leg quarters into thighs and drumsticks. You can also use any vegetables you have just remember to place any vegetable that needs less cooking time in the middle.
To bake in normal oven Preheat oven to 450° F place oven rack to middle position place pan with vegetables broth and chicken in the oven and bake for 15 to 20 minutes