Roasted Cabbage Wedges
Great on Grill or Oven Roasted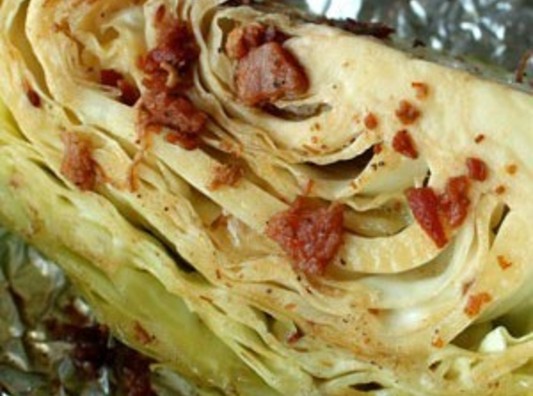 Prep time:
Cook time:
Total time:
Ingredients
1 medium head of cabbage
1 teaspoon extra virgin olive oil
2 tablespoons bacon bits (the real kind)
1 ½ tablespoons lemon juice
1 tablespoon Worcestershire sauce
¼ tsp. kosher salt
¼ ground black pepper
Directions
Preheat the oven (or the grill) to 425 degrees.
Mix the olive oil, bacon bits, lemon juice, Worcestershire sauce, salt and pepper to make the marinade.
Cut the Cabbage head in half on the core...Then cut the halves in half again…to make quarters.
Lay each wedge on a sheet of aluminum foil large enough to wrap it up in. Spoon about 2 tbsp. of the marinade on top making sure to get it in all the nooks and crannies.
Wrap each wedge and bake or Grill for 30-45 minutes. You can cook them up to an hour for softer cabbage.
Notes
The wedges reheat wonderfully in the oven or the microwave!