Roast Pork in a Plum & Orange Sherry Sauce
This is a Simple and Decadent Roast with flavors you will be amazed at.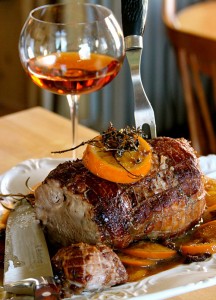 Ingredients
Boneless Pork shoulder (5 lbs)
1 Large can of plums (29 oz / 1 lb and 13 oz.) (Pitted) plus the liquid in the can
3 Oranges
1 lemon
1 cup of sweet sherry
4 tablespoons of butter
Several sprigs of fresh thyme and several of rosemary
Directions
Pre-heat oven to 350
Brown the pork in a large Dutch oven in 4 tablespoons of butter until well browned on the outside.
Add pitted plums, syrup from the plums, sliced oranges, sherry, zest and juice of 1-2 lemons and herbs.
Cover and cook for 30-45 minutes per pound of pork. Rotate and baste pork a few times through cooking.