Potatoes & Cauliflower Mash
A delicious lighter version of mashed potato's and you can't even tell that it is half cauliflower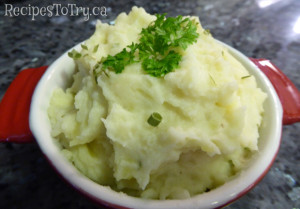 Ingredients
3 large baking potatoes, washed and cubed
1 tablespoon salt
2 cups of cauliflower florets
1 Tablespoon of butter
1 tablespoon of no fat Greek
yogurt
2 tablespoons light cream cheese
½ teaspoon minced garlic
⅛ teaspoon freshly ground black pepper
½ teaspoon chopped fresh or dry chives, for garnish
Directions
In a saucepan, add potatoes and salt. Cover with water and boil 15 minutes.
Add cauliflower and simmer 10 more minutes or until potatoes are completely done.
Drain completely. Add butter, Greek yogurt and Cream cheese, yogurt, and garlic, using a masher or a mixer, smash the vegetables to desire consistency. Add pepper & salt to taste.
Garnish with chives.
Nutrition Information
Serving size:
156 g
Calories:
111
Fat:
2.5 g
Saturated fat:
1.5 g
Carbohydrates:
21.2 g
Sugar:
1.4 g
Sodium:
908 mg
Fiber:
2.1 g
Protein:
3 g
Cholesterol:
7 mg