Pork Tenderloin with Roasted Cherries and Shallots
Savory pork pairs with a sweet/slightly tart sauce and chopped fresh parsley. This recipe is all over the internet, so it is impossible to credit the original source so as it was featured in the Calgary Health Trust recipe of the month series I have given them credit.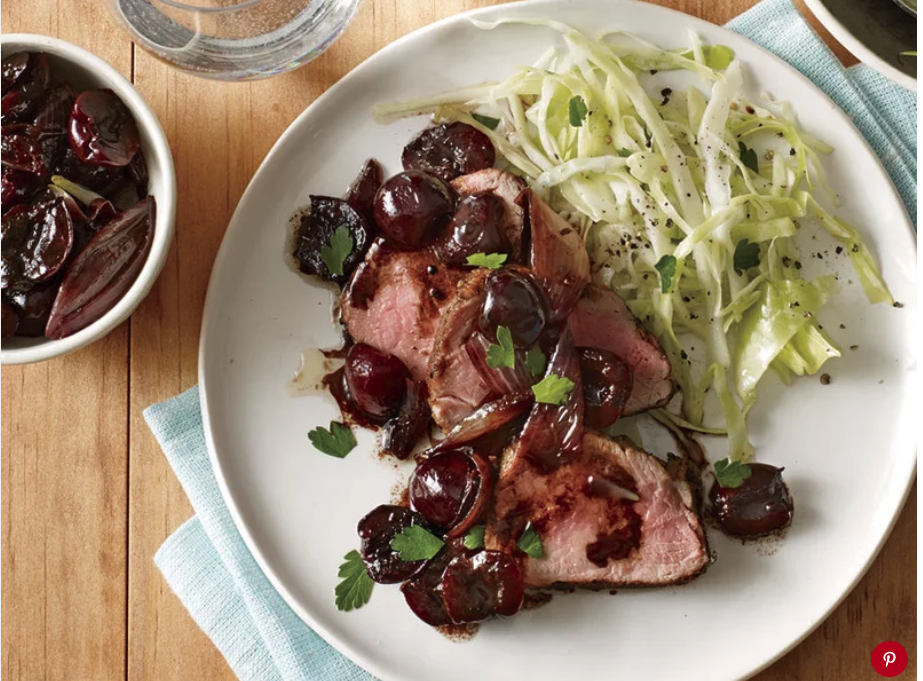 Ingredients
2 tablespoons canola oil divided
¾ teaspoon kosher salt, divided
½ teaspoon black pepper
½ teaspoon ground cumin
⅛ teaspoon ground cinnamon
1 (1-pound) pork tenderloin, trimmed
3 large shallots quartered
8 ounces fresh cherries pitted and halved
¼ cup unsalted chicken stock
2 tablespoons balsamic vinegar
½ teaspoon brown sugar
1 tablespoon butter
¼ cup coarsely chopped fresh flat-leaf parsley
Directions
Preheat oven to 425°.
Heat a large ovenproof skillet over medium-high heat. Add one tablespoon oil; swirl to coat. Combine ½ teaspoon salt, pepper, cumin, and cinnamon. Rub pork evenly with spice mixture. Add pork to pan; sauté 4 minutes. Turn pork over; place pan in the oven and bake at 425° for 15 minutes or until a thermometer register 140°. Remove pork from pan; place on a cutting board (do not wipe out pan). Let pork stand 10 minutes. Cut into thin slices.
Add remaining one tablespoon oil to pan; swirl to coat. Add shallots and cherries; sprinkle with remaining ¼ teaspoon salt. Place pan in oven; bake at 425° for 10 minutes (do not turn cherries). Carefully remove the pan from oven; place over medium-high heat. Stir in stock, vinegar, and sugar; bring to a boil. Cook 4 minutes or until liquid is syrupy. Remove from heat; stir in butter. Serve cherry mixture with pork; sprinkle with parsley.
Notes
Substitute Basil for the parsley for a tasty change. No Shallot, a small yellow onion will work. No fresh cherries, frozen unsweetened will work you will just have to cook longer to reduce the liquid to a syrupy consistency.