Perogies (Cuisinart Convection Steam Oven)
Cooking Perogies in the Steam Oven is an excellent and quick method to a delicious side dish.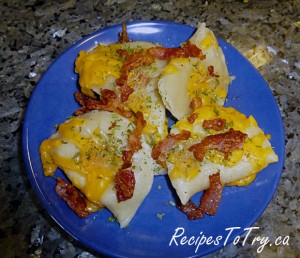 Ingredients
10 frozen Perogies any kind Homemade or store bought
3 green onions chopped
3 slices of bacon cooked crisp and chopped
⅓ cup shredded cheddar cheese
1 tbsp. butter
Directions
Line the baking pan with tinfoil (saves on cleanup)
Put the Perogies in the pan on the lower rack of the Cuisinart Convection Steam Oven at Steam 210 (Note this is the straight steam setting not bake and steam etc) for 20 minutes.
When done place the butter on the Perogies and mix to melt and coat them. Sprinkle the shredded cheese, chopped green onions and crumbled crisp bacon on top.
Serve and enjoy.
Notes
Instead of butter you can use a tablespoon of the rendered fat from the cooked bacon equally delicious.